Summer's horror movie 'The Initiation of Sarah' (2006) was filmed for the most part at the Centenary College in Shreveport, Louisiana. Kelsey Johnson, who worked as an extra in the movie, has written about her experience in the Centenary College magazine.
Check out below digital scans scans from the magazine.
Among other things, she mentioned that the skirt of one of the leading actresses (I let you guess who that was) "was so short that the wardrobe department had to use double-sided tape to prevent too much exposure". See it for yoursel!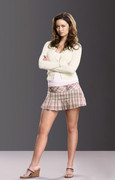 03 Nov 2018