Summer Glau did a new photoshoot for Nylon magazine. The fashion and pop culture magazine published an article accompagnied by a photo in black and white of Summer in the March 2011 issue of NYLON Guys, a sub magazine of Nylon .
We have updated the News with the scans from the magazine. Check out this breathtaking picture of Summer Glau, photographed by Jaesung Lee, from the March 2011 issue of Nylon Magazine.
Stylist: Beth Hoppe.
Hair: Jonathan Anousek at Exclusive Artists using Kérastase.
Makeup: Robin Black at Starworks Artists using Nars.
Actor Shiloh Fernandez is on the cover of NYLON Guys March 2011.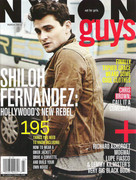 17 Mar 2011