If you were at this year's Awesome Con in Washington D.C., you may have run into Jazmine dressed up up as bounty hunter Samus Aran from Nintendo's science fiction game Metroid. Between Space Pirates chases and photographs with attendees, Jazmine got the chance to meet Summer and was so kind to share with us their photos as well as their impressions. Enjoy!
When my artist friend Chris asked me to help him out for two days at Awesome Con, I was thrilled to have a free pass to the event. I was looking forward to getting autographs from Morena Baccarin [who had to cancel her appearance due to filming] and Summer Glau to go along with the photo and autographs I already have of Jewel Staite. I've been having the cast of Firefly sign the cards from my 'Into the Black' Firefly card game.

I then decided to cosplay at the convention. I waffled between Cyclops, Spider-Man and even the Greatest American Hero. As I was looking for a place to buy costumes, I found a site that had full-body suits of Samus Aran's Zero Suit. Being a long-fan of Metroid and Samus, I was hooked. Being trans-curious and moving toward a gender transition, I felt that this crossplay would be a wonderful opportunity. I ordered the suit, a wig and a stuffed metroid. I bought and dyed my own shoes, and built my paralyzer from a NERF gun. With a friend doing my makeup, I was all set for the con.

I arrived at Awesome Con shortly after it opened on the second day, and the hall was already packed. I was not completely in costume yet. I had my make up done and my Zero Suit bodysuit on under a sweat shirt and sweat pants, but I was still a brunette (see pic below).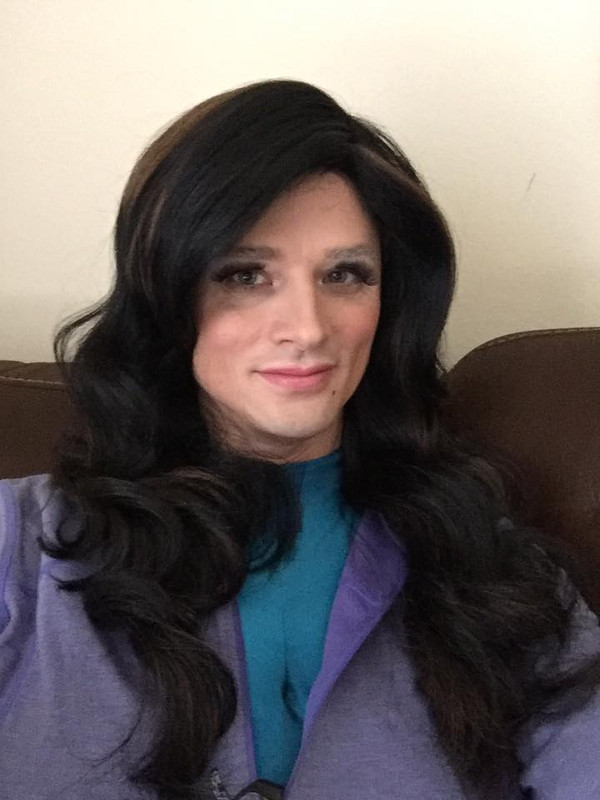 After dropping my bag at my Chris's booth, I immediately went to get into line for an autograph from Summer Glau. I figured if I didn't do it first thing, I might not get a chance later. There was already quite a line, and it took nearly an hour to get through. The other fans and I talked about Firefly and our favorite episodes, and some asked about my costume and how long I'd been cosplaying.

When I got up to Summer, her jaw dropped and she said I looked gorgeous! She could tell I was wearing some kind of cosplay suit under my sweats and asked me about it. I gave her my business card and she was very impressed. I told her I'd only been cosplaying for a couple of months, but I'd been moving toward gender transition for nearly 20 years. She asked me to come back later so she could see me in costume.

When she signed the picture, I asked for River's second-to-last line in the movie: "It's more fun to hear you say it." Summer said no one had ever asked for that quote before. She said her favorite quote was "No power in the 'verse can stop me."

After I got changed, I started to make a loop around the exhibit hall, and drifted by Summer's table, but she still had a long line and I didn't want to impose. I got lots of pictures done at the Con, and even got 3D scanned for a figurine. I competed in the costume contest (see pics below) and got points for looking fierce, but didn't win an award.
Immediately after the contest I went back to Summer's table. I told an attendant that I'd visited before and that she had asked me to come back. He said he'd talk to her handlers and said I should get in line just in case. As I waited, I talked about my costume with some fans. Then they started to announce the end of the day. The attendants cut off the line, and I ended up second-to-the-last.

Summer caught sight of me before I got all the way up and she mouthed the words 'Oh my God.' I paid to get a picture with her (see pic below), and she was thrilled to see me again. She even remembered my name. I thanked her for being such a lovely person and an inspiration to her fans.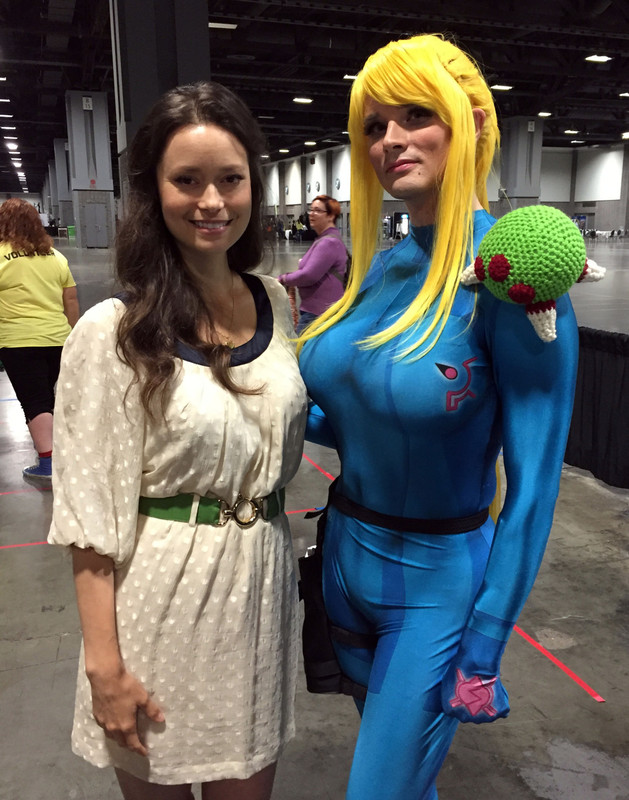 You can find the work of Jazmine's friend and concept art artist Chris Rubenstahl at his website. A huge thank you to Jazmine for sharing their Awesome Con impressions with us. It means a lot for fans who don't have the opportunity to meet Summer in person, whether they are on a budget or lack of time or live in another country. If you want to learn more about Jazmine's journey, please visit their Tumblr blog or their Facebook page.
On the same topic, check out photos and stories of fans who have recently shared with us their Summer Glau experience:
If like them you want to share your story/pictures with other fans, please contact us.
16 Jun 2016