Actress Olivia Luccioni, who regularly dubs Summer Glau in French, met the sci-fi icon during her visit to Paris for Comic Con Paris last October. Olivia has kindly agreed to answer our questions and discussed the following with us: meeting Summer at Paris Comic Con, dubbing Summer in Terminator: The Sarah Connor Chronicles (among her other roles), her work as a voice-dubbing artist in general and more. Enjoy the reading.
Child of the ball, (her father, comedian and artistic director, is the French voice of Al Pacino since 1995), Olivia Luccioni juggles between theater, television but also dubbing (movies, TV series, video games, ...). She has lent her voice and talent to many American actresses, including Summer Glau (in Terminator: The Sarah Connor Chronicles, Dollhouse, Chuck, and more recently in Castle), Peyton List, but also Malese Jow (The Vampire Diaries), or even Luisa d'Oliveira (The 100). She can also be heard in the animated series Star Wars: The Clone Wars, in which she is the voice of Ahsoka Tano.
Dub actors like Olivia are vital in bringing Hollywood films and TV shows to Francophone audiences. This interview provides an opportunity to put a face on the French voice of Summer Glau, and provide a general insight on voice acting.
To give you a taste of Olivia's voice, listen to her as she dubs Summer's character Kendall Frost in Castle 8.14.
1. How did the idea of having you and Summer meet up at Comic Con Paris come to be?
- To be honest I owe this meeting to Christophe Gonin. When he heard that Summer was coming to France, he organized this little surprise without telling me about it for fear that I might be disappointed if it could not be done. I do not know how he did it, but he did! And I thank him for that!!!
2. To my knowledge, this is the first time that Summer has met an actress who dubs her at a convention. What was her reaction and how did this meeting work out?
- These kinds of meetings are rather short. We exchanged very little because conventions are very crowded. In any case, American actors tend to be surprised. In the United States, there doesn't seem to be much dubbing or very few instances at all, so it feels weird to them, as was the case for Summer. Anyways, she seemed happy.
3. Conversely, is this the first time you've met the interpreter of a character you double?
- No, thanks to Christophe, once again, I was able to meet Luisa d'Oliveira [Editor's note:: Emori in The 100] at Space Walkers Con 2, or Allison Mack at Paris Manga & Sci-Fi Show.
4. Do you regularly attend comic conventions such as Paris Manga or Comic Con Paris?
- In addition to Comic Con Paris, I've attended Paris Manga twice and this one time Space Walkers Con 2, a special convention that was dedicated to The 100. I think it's pretty cool, I really like that :-)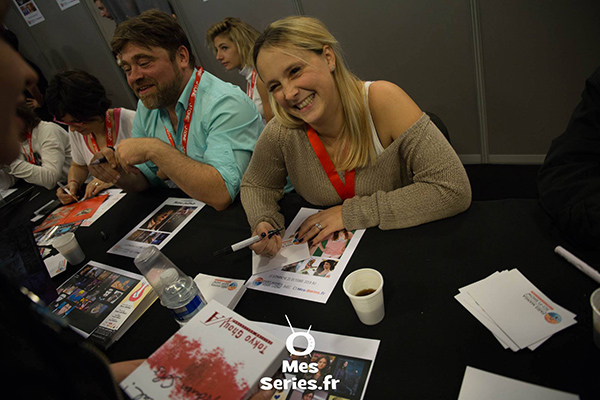 5. Since you've dubbed several of Summer's roles, to what extent do you feel that you have become a part of Summer's journey?
- I don't think I'm part of her career but on the other hand she is part of mine :-)
6. As is the case for many actors/actresses, it should be noted that another actress also lent her voice to many of the characters played by Summer such as Firefly/Serenity, or more recently, The Cape and Help for the Holidays. Can you explain to the general audience the reason for these voice changes, as it can sometimes be confusing to the public?
- As often as we do dub the same actress, she does not belong exclusively to us. Most of the time, we try to keep the voices "assigned" but with each artistic director, as well as agreement with the client, they are often free to make their own casting choices. That's how it is and there's nothing we can do about it.
7. Now let's talk about about your dubbing work on Terminator: The Sarah Connor Chronicles, which aired for the first time in France in 2009 on the TMC channel in 2009. Can you tell us how much time was needed to dub the 31 episodes of the two seasons?
- It goes back a long way. Quite frankly, I do not remember exactly but on average, for the episodes in this series, it takes about a day and a half to dub an episode. So I'll let you do the calculation, keeping in mind that not all the episodes are dubbed back to back, the dubbing was spread over a year and a half if I remember correctly.
8. What was your reaction when you were told for the first time, "You are going to dub a Terminator in the series"?
- Before dubbing Summer's role in this series, I went through all the steps of the casting, so I was able to practice ahead of time. It was very special voice work definitely but fortunately Cameron started to experience human feelings as the series progressed. The ending was easier to do than the beginning.
9. How did you go about finding the right fit for the tone of Cameron? Was there any preparation work, such as the discovery of the character, the story, listening to the dialogue in VO, etc. How does it work?
- At the time, we opted for a rather simple and monotonous tone which obviously pleased the clients that chose me. Apart from viewing the scene before recording (as is the case for dubbing), there were no special preparations.
10. How did you find the experience of playing the dual roles of Cameron/Allison [Ed.: the human that Cameron is modeled after] to be like? Did you have specific instructions from the artistic director on how to say Cameron / Allison's lines?
- I'm sorry but I can't remember too much about it... Allison was human right?
The challenge was simply to keep the emotionless side of the Terminator to mark the difference between Cameron and Allison [Ed.: to reinforce this distinction, the Terminator's voice was distorted briefly at the beginning to make it sound like a robot].
11. In general, were studio recordings done alone or with others, especially with Marjorie Frantz (who dubs Lena Headey) or Donald Reignoux (Thomas Dekker)?
- We generally had several voice actors in the studio. How the recordings were done (either alone or in a group) depended on a lot of factors, such as the availability of the actors, whether they are in the same scenes or not, the difficulties of the scenes, etc. For Terminator: The Sarah Connor Chronicles, we were lucky enough to be together very often.
12. One of the key scenes in the series is the one where Cameron got stuck in between two trucks while trying to kill John, in the first episode of Season 2. The voice plays a vital role in Cameron's attempt to convince John that she is fully functional again and I think you have done a remarkable job. What memory do you have of this scene?
- Thank you so much! I will always remember it because I loved this scene. In the original version, Summer was extraordinary. As the scene progressed, you can really see the emotions rising from her character and it was a great feeling to emulate what she did.
13. This was your first time lending your voice to one of Summer Glau's characters. What is your fondest memory of dubbing Cameron and working on the series in general?
- I fell in love with Summer immediately! For this series, I was a complete newcomer, since I had not seen the Terminator movies beforehand (much like Summer when she was hired for the role). Sorry to tell you, but to this day, I have not seen any of them. So I arrived without any prior knowledge and not really knowing what was going to happen; it might have helped me a bit with the naive side of Summer's character.
14. Are there any dubbing anecdotes about the series that you would like to share with us?
- Again, I apologize but it was so long ago that I cannot remember. As for my fellow dubbing partners, Donald and I had known each other for a long time. As for Marjorie, he and I were not acquainted for very long, it was a very beautiful discovery.
15. In a Christmas movie, Summer's character has a very childish voice in French, - let me reassure you right away, it wasn't your voice - while the cast already includes children (watch clip below). I think the choice in voice damages her character and discredits Summer overall. It can be an asset to cast in this manner at times. In Serenity, for example, Summer played a teenager in a world of adults. Otherwise, it is likely to be viewed as a casting error. Have you ever felt uncomfortable with your character, to the point of notifying the artistic director?
- It happens sometimes. When we arrive on set and ask to look at the first scene for our character, there are times we turn to the artistic director and say "it's not for me". But most of the time, you have to trust the artistic director.
The last time this happened to me was some time ago. I told the art director that I did not feel at ease with my character. She told me "do not worry, trust me and go on" and luckily I trusted her. It was on "Downton Abbey"
16. What do you think of Summer Glau's work in general and what she brings to her characters?
- I think she's a very good actress, dubbing her is a very interesting experience. There's a lot of things going on in her eyes, which is the main source of inspiration for a dubbing artist.
17. Is there an actress (other than Summer Glau) or character that you liked dubbing in particular? And why?
- There is one actress who I love dubbing, her name is Elizabeth Gillies. I think I have dubbed everything she starred in and at the moment, I'm dubbing her role in Dynasty. She always plays a villain or a pest of some sort and I love doing characters like that.
18. In your opinion, what was your most difficult dubbing role and why? To add to that, which of Summer's roles was the most difficult to dub and why? How did you handle any challenges that came your way?
- My most difficult dub was for Downton Abbey. I had a hard time getting into the character, each session was definitely challenging but overall the end result is not bad. Oddly, the most difficult role of Summer's to dub was in an episode of The Big Bang Theory where she played herself. There is nothing more difficult than playing yourself.
19. Between your first dub role and now, what has changed? Has it become easier for you or more difficult?
- It's both easy and difficult. It's easy when you start out because everything goes a lot faster and you think of yourself as brilliant. It's difficult because of the same reason, it goes by fast, meaning that there is less time for the artistic aspect. Our work is performance based and there are so many programs being broadcast and so many media platforms, that it's impossible to take your time.
20. Can you tell us about your current and future projects?
- You know I mainly work as a voice actress and to avoid unwelcome gossip, I do it by choice. I find this job very fulfilling and I am very happy that I'm being given roles that I would not be given at the theater or cinema, so I take every day as a chance and every morning I am very happy to go to work. I hope my future projects continue like this for a very long time!!!
21. We have just learned that Summer has decided to return to acting once again for a small role in a series titled Wu Assassins in English - to be broadcast in 2019 on Netflix. Is there any chance that you will lend your voice again to her character for the dubbing into French?
- It would be my pleasure but it depends on the artistic director. He or she will make his/her choice on who will dub Summer for that role.
Special thanks to @ChhaiTeaLatte for helping with the translation and for proof reading and to Mes-Series.fr for the additional photos.
Find below the original version of the interview in French.
FRENCH VERSION
La comédienne Olivia Luccioni, qui double régulièrement Summer en français, a profité du passage de cette dernière à Paris pour la Comic Con Paris en octobre dernier, pour poser avec elle pour une photo op. Olivia a accepté de répondre à nos questions et évoque avec nous sa rencontre avec Summer, son travail de doublage sur la série TSCC (entre autres) et son métier d'actrice de doublage.
Enfant de la balle, (son père, comédien et directeur artistique, est la voix française d'Al Pacino depuis 1995), Olivia Luccioni jongle entre théâtre, télévision mais aussi doublage (films, séries TV, jeux vidéo,...). Elle a notamment prêté sa voix et son talent à de nombreuses actrices américaines, dont Summer Glau (dans Terminator: Les Chroniques de Sarah Connor, Dollhouse, Chuck, et plus recemment dans Castle.), Peyton List, mais aussi Malese Jow (The Vampire Diaries), ou bien encore Luisa d'Oliveira (The 100). On peut aussi l'entendre dans la série animée Star Wars : The Clone Wars, dans laquelle elle est la voix d'Ahsoka Tano.
Les acteurs de doublage jouent un rôle crucial dans la diffusion de films et séries hollywoodiennes auprès du public francophone. Cette interview est l'occasion de mettre un visage sur la voix française de Summer Glau, et plus généralement de donner un coup de projecteur sur les métiers du doublage.
1) Comment est venue l'idée de cette rencontre entre vous et Summer lors du Comic Con Paris?
- Pour être honnête je dois cette rencontre à Christophe Gonin de Mes Series.fr - Doublage Français. Quand il a su que Summer GLAU venait en france il a organisé cette petite surprise sans m'en parler de peur que je sois déçue si ça ne se faisait pas. Je ne sais pas comment il a réussi mais il l'a fait! Et je l'en remercie !!!
2) C'est, à ma connaissance, la première fois que Summer rencontre une actrice qui la double lors d'une convention. Quelle a été sa réaction et comment s'est passé cette rencontre?
- Ce genre de rencontres sont assez brèves… on échange très peu car il y a beaucoup de monde mais les acteurs américains sont toujours surpris.
Aux états unis on ne fait pas de doublage ou très peu alors ça leur fait toujours bizzare et ça a été le cas pour Summer. Elle semblait contente en tout cas.
3) A l'inverse, est-ce la première fois que vous rencontrez l'interprête d'un personnage que vous
doublez?
-Non grâce a Christophe (encore et toujours ) j'ai pu rencontrer Luisa d'Oliveira [Ndlr: Emori dans la série télévisée Les 100] a la convention The100, or Allison Mack au Paris Manga & Sci-Fi Show [Ndlr: Olivia a doublé Allison dans le film animé Superman/Batman : Ennemis publics. at the Paris Manga & Sci-Fi Show.
4) Est-ce que vous participez régulièrement à des conventions du type Paris Manga ou Comic Con Paris?
- En plus de Comic Con Paris, j'ai participé deux fois au Paris Manga et une fois a une convention spéciale The 100.
Je trouve ça très sympa, ça me plait bien
5) Etant donné que vous avez doublé Summer à de nombreuses reprise, dans quelle mesure considérez vous que vous faites partie de son parcours d'actrice.
- je ne pense pas faire partie de son parcours mais en revanche elle fait partie du mien
6) Comme c'est le cas pour de nombreux acteurs/actrices, c'est une autre actrice - Lea Gabrièle - qui a prêté sa voix aux personnages interprêtés par Summer dans Firefly/Serenity, ou plus recemment dans The Cape ou La Baby-sitter de Noël. Pouvez-vous expliquer aux non-inités que nous sommes la raison de ces changements de voix, qui peuvent parfois prêter à confusion pour le public. Je pense notamment à Dollhouse, série dans laquelle vous doublez Summer alors que l'actrice citée précédemment double le personnage joué par Amy Acker.
- Même si on double souvent une comédienne elle ne nous appartient pas. La plupart du temps on essaie de conserver les voix "attitrée" mais chaque directeur artistique, en accord avec le client, est libre de faire une autre "distribution". C'est comme ça et on ne peut rien y faire.
7) Evoquons maintenant votre travail de doublage sur la série Terminator: The Sarah Connor Chronicles, qui a été diffusée pour la première fois en France en 2009 sur la chaîne TMC. Pouvez-vous nous dire combien de temps a été nécessaire au doublage des 31 épisodes des deux saisons?
- Cela remonte à loin… très franchement, je ne m'en souviens plus exactement mais en moyenne pour des épisodes comme ceux de cette série on mets un jour et demi pour faire un épisode. Alors je vous laisse faire le calcul, sachant que ça ne se fait pas à la suite, on a fait ça étalé sur 1 ans et demi si je me souviens bien...
8) Qu'elle a été votre réaction lorsqu'on vous a dit pour la première fois, "Tu vas doubler un Terminator dans la série"?
- Avant de faire la série j'ai passé des essais alors j'ai pu m'entraîner
Ça a été très particulier à faire mais heureusement des sentiments naissaient en Cameron au fur et à mesure des épisodes. La fin était plus facile à faire que le début.
9) Comment avez-vous trouvé le ton qui convient au personnage de Cameron? Y a-t-il eu un travail de préparation, du type découverte du personnage, de l'histoire, écoute du dialogue en V.O. etc… comment cela fonctionne-t-il?
- On a trouvé au moment des essais une couleur assez simple et monocorde qui a plus aux clients visiblement puisqu'ils m'ont choisi. Ensuite en dehors de visionner les scène au moment de les enregistrer (comme pour chaque doublage) il n'y a pas eu de préparations spéciale.
10) Comment avez-vous trouvé le fait de jouer les deux faces d'un même personnage, c'est à dire Cameron et Allison [Ndlr: le femme qui a servi de modèle à Cameron] to be? Est-ce que vous avez eu des directives précises de la part du directeur artistique sur la façon de dire les répliques de Cameron/Allison?
- Je suis désolé mais je ne me souviens plus trop… Allison était humaine c'est ça?
Le challenge était simplement de garder le côté sans emotion du robot pour faire bien marquer la différence avec Allison.
11) En général, les enregistrements en studio se faisaient-ils seul ou à plusieurs, notamment avec Marjorie Frantz (qui double Lena Headey) ou Donald Reignoux (Thomas Dekker)?
- Généralement on était ensemble, la façon d'enregistrer (seul ou à plusieurs) dépend de beaucoup de facteur, la disponibilité des comédiens, si ils sont dans les mêmes scènes, la difficultés des scènes…
Pour cette série on a eu la chance d'être très souvent ensemble.
12) Une des scènes clés de la série est celle dans laquelle Cameron est coincée entre deux camions après avoir essayé de tuer John, dans le premier épisode de la saison 2. La voix joue un rôle essentiel dans la façon qu'a Cameron de convaincre John qu'elle fonctionne à nouveau bien et je trouve que vous avez fait un travail remarquable. Quel souvenir gardez-vous de cette scène?
- Merci beaucoup. je m'en souviendrai toujours je pense car j'ai adoré cette scène.
En VO, Summer était extraordinaire. Il y avait au fur et a mesure de la scène des émotions qui montaient et c'etait vraiment génial a faire!
13) C'était la première fois que vous prêtiez votre voix à Summer Glau. Quel souvenir gardez-vous du doublage de Cameron et du travail sur la série en général?
- J'ai tout de suite adoré cette comédienne! Pour cette série j'étais quelqu'un de complètement novice puisque je l'avais vu aucun Terminator et désolé de vous le dire je n'en ai toujours vu aucun à ce jour. Je suis donc arrivé sans a priori et sans savoir vraiment ce qui allait se passer ça a peut-être aidé au côté un peu naïf du personnage incarné par Summer.
14) Y a-t-il des anecdotes survenues pendant le doublage de la série que vous souhaiteriez partager avec nous?
- Encore une fois je suis vraiment désolé mais ça remonte à tellement loin je me souviens plus…
En ce qui concerne mes partenaires de doublages, Donald et moi nous connaissions déjà très bien; en revanche Marjorie et moi ne nous connaissions pas ou alors très peu, et ça a été une très belle découverte.
15) Dans un film de Noël pour la chaîne américaine Hallmark, le personnage de Summer a en français une voix très enfantine, alors même que le casting comprend des enfants, ce qui à mon avis déssert le personnage et le décrédibilise. Sans remettre en cause la performance de l'actrice, ce qui pouvait être un atout dans Serenity par exemple, dans lequel Summer jouait une adolescente dans un monde d'adultes, constitue une erreur de casting dans ce cas précis. Vous est-il arrivé de ne pas "sentir" votre personnage, au point d'en faire part au directeur artistique?
- Ca arrive parfois quand on arrive sur un plateau et qu'on demande à regarder la première scène dans laquelle est censé être notre personnage de se retourner et de dire "c'est pas pour moi". mais la plupart du temps il faut faire confiance au directeur artistique.
La dernière fois que ça m'est arrivé c'était il y a longtemps j'ai dit à la directrice artistique que je me sentais pas du tout sur ce personnage elle m'a dit t'inquiète pas fais-moi confiance continue et heureusement que je lui ai fait confiance c'était sur "Downton Abbey"
16) Que pensez-vous du travail de Summer Glau en général et de ce qu'elle apporte à ses personnages?
- Je trouve que c'est une très bonne comédienne très intéressante à doubler il se passe plein de choses dans son regard et c'est notre support premier quand on fait du doublage.
17) Y a-t-il une actrice (autre que Summer Glau) ou un personnage que vous avez particulièrement aimé doubler et pourquoi ?
- Il a une autre comédienne que j'adore doubler qui s'appelle Elizabeth Gillies. elle pour le coup je crois l'avoir doublé dans tout ce qu'elle a fait et en ce moment je la double dans dynastie elle fait toujours des méchante un peu peste et j'adore faire des personnages comme ça.
18) Quel a été votre doublage le plus difficile et pourquoi? En outre, quel était le personnage interprété par Summer le plus difficile à doubler et comment avez vous surmonté les défis auxquels vous étiez confrontée?
- Mon doublage le plus difficile a été pour Downton Abbey j'avais vraiment beaucoup de mal à rentrer dans le personnage chaque session été un peu éprouvante mais heureusement je pense que le résultat est pas mauvais. Bizarrement là où summer glau a été la plus difficile à doubler c'était dans un épisode de Big Bang Theory car elle jouait son propre rôle… il y a rien de plus difficile que de jouer son propre rôle.
19) Entre le moment où vous avez débuté dans le doublage et aujourd'hui, qu'est-ce qui a changé? Est-ce plus facile ou difficile?
- C'est facile et difficile à la fois. Facile quand on n'a pas connu l'avant parce que ça va beaucoup plus vite et on se dit qu'on est forcément génial puisqu'on a plus le temps de refaire systématiquement. Difficile parce que justement ça va beaucoup plus vite, on a beaucoup moins de temps pour l'artistique. On est au rendement et il y a tellement de produits diffusé par ans et tellement de support qu'on n'a plus le temps de prendre le temps.
20) Parlez-nous de votre actualité et de vos projets futurs?
- Vous savez je fais principalement du doublage de voix et pour arrêter certaines mauvaises langues je le fais par choix, je suis très épanouie dans cette branche et très heureuse qu'on puisse me donner des rôles qu'on me donnerait pas au théâtre ou au cinéma alors je prends chaque jour comme une chance et tous les matins je suis très contente d'aller travailler. Mes projets futurs c'est espérer que ça continue comme ça pendant très longtemps !!!
21) On vient juste d'apprendre que Summer a décidé revenir sur les plateaux de tournage le temps d'un petit rôle dans un série - intitulé Wu Assassins en anglais - qui sera diffusée en 2019 sur Netflix. Y a-t-il une chance que vous prêtiez à nouveau votre voix à son personnage pour la doublage en français de la série?
- Ce serait avec plaisir mais ça va dépendre du directeur artistique il ou elle fera son choix.
13 Feb 2019
|
Total comments: 1

Message #1 | chrisdvanne | 14 Feb 2019, 08:38 GMT


@Randy Thanks! 
I love it when you get the story that goes with a photo. 
 Also, fans should experience something different than the usual conventions photos or episode screencaps.