Summer Glau filmed on August a Christmas movie for the US channel Hallmark in which her character, Christine Prancer, is an elf. Make-up artist Michael Spezzano, who worked on the movie, posted on his blog another photo of Summer taken during the filming.
This new photo reveals quite a bit on Summer's look on the movie. Like in
Spezzano's previously posted photo
, this one shows Summer Glau's pointy ears, which as we know any good elf should have; but we have also a good look at her final makeup and costume.
Have you ever seen a better looking Elf?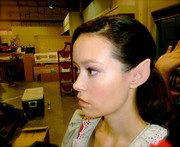 The photo is accompanied by the following commentary, that explains Spezzano's choice of makeup (Mary Lou Manizer by theBalm), gives a summary of the movie plot and a major spoiler on Summer's role :
I used this [honey-hued luminizer] on my actress SUMMER GLAU, on my last movie, HELP FOR THE HOLIDAY'S, where she played a Elf from Santa's Village that comes to the real world to help a family re-discover Christmas spirit, and falls in love in the process. So I wanted her too look fairy-like through the whole film.
'Help for the Holidays' is set to premiere on December 9, 2012 on the Hallmark Channel
More infos/gossip on the filming, including a glimpse of Summer's elf costume :
12 Sep 2012
|