Summer Glau is currently filming a Christmas movie for the US channel Hallmark in which she plays an elf. The film's title is 'Help for the Holidays' and it co-stars Eva LaRue (CSI Miami).
Makeup artist Michael Spezzano posted a photo that shows Summer Glau's pointy ears which as we know any good elf should have. We don't know what magical elf powers she will have.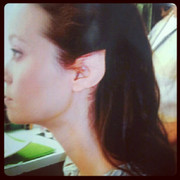 More infos/gossip on the filming, including a glimpse of Summer's elf costume :
Warning: even though we have on set pictures, it does not necessarily mean that the costume or makeup you see here will be what you will see on screen. The director could always choose another option.
Thanks to @thelexy for the heads up
Alex and I teamed up to write this news.
29 Aug 2012
|