Summer appeared at Cincinnati Comic Expo over the weekend, which allowed us to share with you lovely photos of the sci-fi icon greeting her fans. We decided to go a step further and asked some of them to share the story that goes with their photo. I hope you have fun reading these tidbits.
1) Let me guess. Actuarial mathematics is the formulation taken by Cameron to assess the risk of John succeeding in a dangerous endeavor? David is a funny guy. He has the celebs hold an Actuarial Mathematics book while he stands back and not in the photo. I have quoted David's caption under Summer's photo holding the famous book first and the explanations he gave us next.
"Summer Glau, actress from Serenity, Firefly and Arrow. Apparently, Actuarial Mathematics book is like Sean Connery and Sam Eliot - it becomes more alluring with age."


Chris - It started as kind of a lark. The first autograph I ever got was of a local (Cincinnati) celebrity (Julie Isphording - an Olympic marathoner) who visited our company. When she offered to sign autographs, I used that book, for some reason I can't really explain. (BTW - I am a retired actuary. That book was used on a number of exams needed for actuarial certification, and then on the job in a few instances. I literally spent hundreds and hundreds of hours with that particular book.)
After that, when I started collecting autographs, I just continued getting them in that book. Then, when I started getting photos, I thought it would be a bit quirky for me to stay out of them, and just have a collection of celebrities alone with the book. Some people just provide a straight photo, but some, like Summer, are intrigued by the book and use it as an opportunity to throw some humor into the situation. I really appreciate that.

My comment with the photo (about the book becoming more alluring with age) was because Summer provided her great pose on the day after Paul Blake ("Greedo" from Star Wars: A New Hope) posed with it for the photo I'm attaching here.
2) River Tam can kill you with her brain, but it's much easier to just use Vera. Thanks Jeff for the badass photo with Summer and for the moving story.
Got Summer to sign my Vera [Editor's note: Jayne's signature weapon from the Firefly series] , and looking freaking awesome posing with it.

Summer was very sweet, however I don't have much of a story to tell about my own interaction. The person in front of me has a very personal and emotional story to tell about how Firefly helped them through a dark time in their life and how he wanted to thank her for that. It was a bit awkward being the next person up, wasn't really sure what to say after all that.

She did thank the person for telling her and hugged him. It was personal enough I was trying hard to not listen lol.

Basically I just asked her to sign Vera, she asked where at and in what color [Editor's note: Summer signed on top of the magazine], I told her it was completely up to her, and she was like, 'oh ladie's choice' and then I asked if she'd be willing to hold it during the photo. She said she'd be honored to pose holding Vera. Aside from that there wasn't a lot of room for posing so we both just winged it.

I loved meeting her, she couldn't have been more sweet.
3) Cosplay is a family affair. Ted and his daughters, dressed respectively as War Dr, 4th Dr, and 10th Dr from the BBC long-running science fiction series Doctor Who, had a great time at the convention and meeting Summer.
Summer Glau is the third cast member of Firefly I have met. She is a sweetheart!

Got to speak to her for a couple of minutes and showed her a comic strip that came out after the success of the Guardians of the Galaxy. I attached it here. She thought it was great.

Here is the comic [Editors' note : see picture below]. I didn't write it, someone sent it to me and I have been showing it ever since. So far Jewel Staite, Sean Maher, and now Summer Glau have seen it.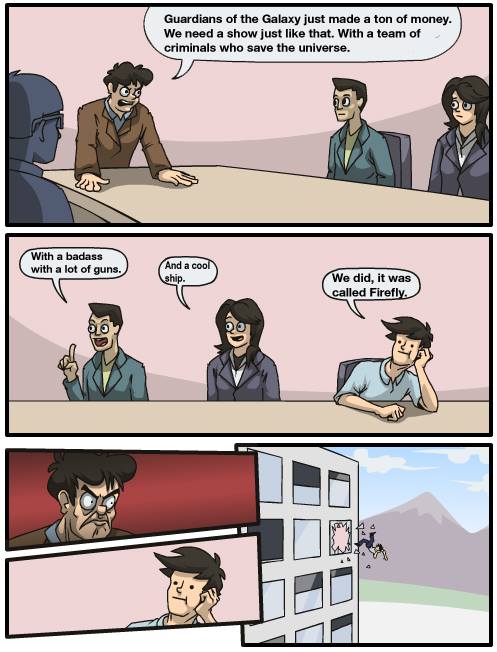 4) One would expect that Alan, as a portrait artist specialized in sci-fi, would pose proudly with Summer holding a portrait of River Tam or Cameron. But no!
Oh joy of joys... today I took a short break from my table at Cincinnati Comic Expo and got to meet Summer Glau, everyone's favorite lobotomized teenager from Firefly. I can't thank you enough Summer for your kindness. It was a real pleasure. Hope your kiddies love the Minions.

I gave her the set of Minions prints I did last year [Editor's note: see the photos below]. I just can't say enough about how generous and sweet she was. She took time to talk to every fan. She stood in front of her table the whole time being very warm and having a good time. It was a dream fan experience.
Visit Alan's Etsy store to see more of his work.
5) Louis sent us this lovely photo of Summer in awe before his daughter. And who would blame the mother of two? Louis's daughter is a cutie pie.
Such a pleasure to meet my 2nd cast member of Firefly/Serenity, Summer Glau. Very gracious, nice to talk to, and just couldn't take her eyes off of my daughter . Absolutely lovely to have that experience

Thank you so much, Summer. You made my day a real treat.
1) Last but not least, I owe special thanks to Paul, who kindly sent me the first images of Summer from Cincinnati Comic Expo. In addition, Paul reveals a fun fact that will delight fans of a certain medieval fantasy epic TV show starring her Terminator: The Sarah Connor Chronicles co-star Lena Headey.
She is a sweetheart! It was great meeting her! She actually complimented me on my shirt. She's a big GoT fan and is "House Stark" all the way!
Many thanks to all fans pictured in this news who took some time to sit down and type of how great Cincinnati Comic Expo went for them! Thank you to Summer for putting yourself out there to meet and engage with fans, even for a short time; we appreciate it.
If you, too, are interested in sharing your story/photos, just post them in the comment section below or send us an email.
Catch up on more from the Cincinnati Comic Expo weekend!
On the same topic, check out photos and stories of fans who have recently shared with us their Summer Glau experience:
19 Sep 2018
|
Total comments: 2

Message #2 | chrisdvanne | 19 Sep 2018, 21:23 GMT


@Disco I have just watched a video about the magic wheelchair xwing. Thanks for letting us know and kudos to Jeff for taking part in this amazing project.