A group of fans is making a 3D animated Season 3 of Terminator: The Sarah Connor Chronicles and we love it.
Although the show has been canceled for many years, Chinese fans have decided to keep up the fight and used their 3D skills to make an animated TSCC season 3, based on 'Born to Fight', a TSCC season 3 fanfiction by River2027. The first episode of their TSCC season 3, titled "Born in the Past", is set in the year 2024 and follows John Connor after the time jump from the season finale of the original TV series. This video is the first of three episodes already completed and runs for just 16 minutes. Enjoy!
As an aside, Chinese TSCC fan Muzili made a great 3D model of Cameron (see photo below) that will be used in future episodes.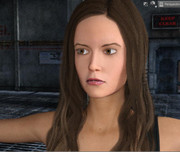 Many thanks to the team behind this project for producing the first episode. Special thanks to River2027 and formytots0128 for English dubbing. It's clear they put a lot of time and effort into creating the video and they deserves a lot of support.
What do you think of this fan-made series? Are you excited to see the next episodes? Please share your thoughts in the comments section below.
08 Nov 2017
|