I have collected for you a couple stories from people who met Summer at Planet Comicon Kansas City 2017 last weekend that shows how real and gracious she is with fans. I hope you have fun reading these lovely tidbits.
Summer signed a Terminator: The Sarah Connor Chronicles sketch for Mike Weaver.
Meeting Summer Glau was everything I thought it could be. She was wonderful. I'm holding the sketch that I commissioned for her to sign. Kyle Strahm made it for me. I plugged his work all weekend. Summer was very flattered. She wrote, "Come with me if you want to live." I didn't ask Summer [about what would have happened in TSCC season 3]. There is only so much time and I was too busy gushing. I think about it a lot. They should continue it as a comic like Joss did with all his shows.
---
A day @amerixanawitch will remember all her life.
She had no idea it was happening. My fiancé asked the people running it if he could propose last minute so her reaction was genuine. She started crying so much and hugged me about 10 times. She showed us her ring from her husband which was a family heirloom. She asked where we went to school and what we were studying. I told her she's been my idol since I was a little girl and that made her cry even more. She said we were incredibly sweet people and hugged us again before we had to leave. It was the best day of my life. I got engaged and my idol was there to see it.
---
Erin is five months pregnant with twins and the day at the convention was exhausting but it was worth it.
She was a joy to meet. And I genuinely hope everyone eventually gets to meet her. My 1 year old was getting a little cranky waiting in line. She comforted him and asked all about him. I basically had to squeeze in how excited I was to meet her because she was gushing over my son. She treated every single one of us kindly, and gave us all a few undivided minutes of genuine attention.
---
Annie the Mighty is a passionate fan who wishes Terminator: The Sarah Connor Chronicles was still on air.
With the lovely Summer Glau on saturday at KCPC. Shared my love of Terminator: SCC and how I was a fan who always fought for its renewal
---
It is with great pleasure that we share the special request that Alan Watkins send us.
Talked to her briefly at KCPC yesterday, shortly after noon. Then realized later that I had my "Walking Zombie Taco" that I'd just purchased with me at the time, and she may not have had any lunch yet.....so now I feel TERRIBLE. Please forward my apologies to her, if it's not too much trouble.
I appreciate your suggestion that I probably wasn't the only one who brought food to talk to Summer, and that she's really understanding, but all the same......I had to have seemed like an inconsiderate ass! But I'm really NOT.....I'm just not too bright sometimes. Anyway, would still like to forward my apologies, and to make it up in a small way.....next time she's in need of a good laugh, tell her to look up "Gangnam Style the Cowboy Way" on YouTube. It has my son in it wearing the outfit that I was in when I talked to Summer, only he's a lot better looking than me.....and he's wearing my better pair of chaps too.
FYI - I DID manage to tell her how much I loved her performance in KNIGHTS OF BADASSDOM.
---
Kelvington was touched by Summer's sweetness and sincerity when he met her (again).
Summer Glau it was so great to see you again this weekend Planet Comicon you were so concerned about my broken arm. She said it was good to see me again and asked in a very sweet voice.. oh, what happened to your arm. She seemed genuinely concerned. #AlwaysMeetYourHeroes
---
River Tam was the inspiration for Trucker Fred's tattoo.
I wanted to see what she thinks of my 1st tattoo. It was brief as there was a long line but, she was a genuinely nice, down to earth person. She acted like she couldn't possibly believe that we were all there to see her. Amazing opportunity!
---
I'm sure reading the message that Michael Thompson send us will make every Browncoat happy.
I was the blind guy in Summer's line about 11:30 on Saturday at Planet Comicon. She signed a Firefly cast photo for me, and saw that Sean Maher had already signed it. She said she heard he had been at the same con last year. I confirmed that, and told her Alan was supposed to be there too, she mentioned how busy he gets. I thanked her for signing the photo. I also thanked her for coming, and as I turned to leave Summer told me to have fun. I turned my head back and said you too.
---
Johnnie Haupt got the chance to chat with Summer a bit and appreciated her sweetness.
It was a long wait but so worth it. I'm sure she was tired but still so sweet and a pure pleasure to meet.
---
I think Knights of Badassdom was fun and entertaining, despite it not being greatest movie ever made. And so does Azariah Annear, who had Summer sign a publicity still featuring Gwen the Fearless.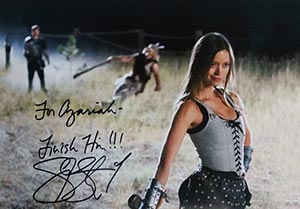 My meeting with Summer was great! She is super sweet, and mentioned she loved working on that movie and hopes to work with Peter Dinklage again some time. Well, everybody, but I specifically "called out" Peter.
---
You can see more photos of Summer posing with fans, signing autographs at her booth or at her panel in the Planet Comicon 2017 gallery album.
A huge thank you to those of you who sent in stories. If you, too, are interested in sharing your story/photos, just post them in the comment section below or send us an email.
On the same topic, check out photos and stories of fans who have recently shared with us their Summer Glau experience:
02 May 2017