I have listed for you a couple (well, many) funny and inspiring stories and photos that fans who have met Summer at last week's MCM London Comic Con kindly sent us (some have never been seen anywhere else) or that I collected online. I hope you have fun reading these lovely tidbits.
More lovely stories will be added as they come, so keep checking back!
Summer and her husband Val were impressed by the Cameron bust that Jonathan brought to MCM London Comic Con. Who wouldn't?
As promised. She even agreed to pose exactly like she did in the Terminator: The Sarah Connor Chronicles promo photo. Also, she brought her husband and her kid to the show AND I think she might be pregnant with a second child.

She was really shocked (in a pleasant way) to see the bust and said it absolutely captured the essence of the same portrait of the promo shot. She happily signed the back of the bust [see photo above], as well as signed the promo photo of the exact pose [see photo above]. Her assistant said I can't take photos at the table but said we will meet again at the photo shoot.

When I was queuing up for the photo op, I saw her husband and her daughter. Her husband saw the bust from afar and the two of them talked. Summer turned around and waived at me since she remembers me. Her husband seemed impressed too.

When it was my turn, I asked if she would pose exactly like the promo photo and she kindly agreed to it (hence the "pissed off" look on the photo, not because she was upset about the bust btw)
The model was made by Peter Hall.
---
James has made Browncoats proud by having his flag signed by Summer at MCM london.
Aimed to meet Summer Glau this year to get the flag and the pic signed. I already had Sean Maher sign it at last year event. They had passed the flag as ok but not sure about this time after recent events. I was thinking about wrapping a red ribbon on the end.

I finally got in with the flag and had a brief, but enjoyable chat with Summer. She also signed the flag.
---
Summer signed a TSCC promo photo for Laurence and happily answered his questions.
As I reached the front of the queue, Summer sat on her chair with perfect posture, looking at me with the kindest of smile, her body position giving you the impression that I had her complete attention.
A little nervous, I stepped forward and spoke to her about Firefly and Terminator: The Sarah Connor Chronicles; we spoke about the fact that tv companies don't give tv shows the time for them to develop and grow, she was very philosophical about the issue, speaking with a warmth and a smile, she had a great deal of appreciation of the fans of her shows and came over as very happy to speak to them.
After that she signed my Terminator photo "for Laurence, come with me if you want to live, Summer Glau", we shook hands, (for such a petit woman she has a strong hand shake), we said goodbye and she said she was happy to meet me, which sounded very genuine. I will always remember this moment, she made my day.
---
That time when Summer drew a moustache on a photo of Alan Tudyk. Oh and furry Summer is adorable. Thanks for the good laugh, Lucy!
My autograph from Sunday at MCM London Comic Con that I had Sean Maher sign last year at London Film and Comic Con and decided to have Summer Glau carry it on but boy did she...I told her that I am gonna be meeting Alan Tudyk in July at LFCC and said "You can do what you want to the photo", so she drew a moustache on him.
I wonder what his reaction is gonna be...
---
This is proof that TSCC fans are also gentlemans. Read below Jason's lovely story.
Yes, I met the lovely reprogrammed female Terminator of 'The Sarah Connor Chronicles' herself, Cameron Phillips :D

Course, when I met Summer at London MCM Expo [a.k.a. MCM London Comic-Con], I decided to call her 'Miss Glau' rather then Summer, as it felt more appropriate and gentlemanly of me to do so.

Interestingly, and I had absolutely no prior knowledge of this even thou I am aware she has a little daughter, it seems at the time I upload this on Monday 29th May 2017 that Summer Glau is currently pregnant about 4 to 5 months at least according to one member of staff who was at the photoshoot, as many of us had noticed a baby bump we wasn't expecting to see.

Thou I wish for a safe birth of her as yet unborn second child for when the time comes :)

Taken Saturday 27th May 2017.
---
Sam's little girl's named River Serenity (no kidding!) dressed up as Kaylee to meet Summer and Sean. Tiny Firefly cosplayers. Parenting done right!
Highlight of today had to be the conversations I had with Sean and Summer. Truly touched at how wonderful they were with River. Thank you for being so nice to my River today.
---
The recipe for a successful convention is a great Lara Croft cosplay and a photo op with Summer. Alexis nailed both!
My meeting with Summer was great. It was very short as she was so popular. She was very friendly though and greeted me with a huge smile and said "hey beauty!".
---
A little girl named River - and her nerdy mom Mia - had the time of their life at Comic Con.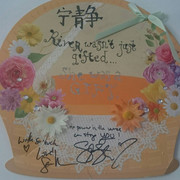 Highlight of con was being able to (albeit in a super flustered manner) tell the story of River's name choice and have Sean Maher and Summer Glau sign her room sign for her. If by some wild chance either of them sees this, you made a little girl and her nerdy mum very happy! :-)
Hoping to grab the rest of the cast one day too. We're hoping to catch Alan Tudyk at LFCC in July :-)
---
Jasmine had a blast meeting the Tam siblings. Bonus points for the Kaylee cosplay!
I've had an absolute blast at MCM London 2017. It was my first time to attend and it was made especially amazing because of all the people I met around the con and meeting Summer was a highlight. She seems a genuinely lovely, happy person, saying thank you to all the fans who went to the photoshoot.
The panel was incredible to watch as both Summer and Sean tried to answer the audience questions as genuinely and as in depth as possible. It really has been an incredible weekend.
---
Gentleman Joker's Firefly: The Game board became an instant collector's item the moment Summer Glau and Sean Maher signed it.
Chose to bring the Firefly Game roll mat to MCM London Expo to be signed. Cause like why not? Sean Maher and Summer Glau were shocked to it and had a look of children in the candy shop when I said "sign wherever you like". Summer Glau signed Miranda. Sean Maher signed Osiris.
---
Summer Glau and Sean Maher signed Chloe's Firefly print. Now only 6 autographs to go.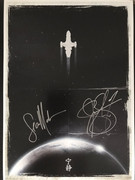 Hi, we didn't get much time with Summer as it was so busy at the event - Summer looked stunning, and was absolutely lovely. She signed my Firefly print that Sean Maher had already signed at a previous event (she has a very cool signature). The Firefly print is by geekyninja (you can find him on twitter).

I'm attending London Film and Comic con in July which Alan Tudyk is scheduled to appear at so hopefully I can add his signature then.
---
Even the errors of MCM's event organization couldn't eclipse Susan's satisfaction of meeting Summer and Sean.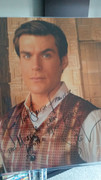 Meeting Summer and Sean was amazing. I asked them if they would ever make another TV/movie as they left so much untold . They both wouldn't confirm or deny, however Summer said she would love to play River again...that gives me some hope.

I also met Victor Garber from legends he was lovely to talk to. My autistic daughter met the red and yellow rangers to get her build a Bear teddy signed (we got the blue and black rangers at the EmCon Nottingham) they remembered her as she dressed as Rita at the EmCon. It made her very happy. My eldest autistic daughter met Catherine Tate, Casper Crump and Andrew Lee Potts she even got selfies .
My son met Donnie Yen and Warrwick Davis they were amazing.
Some of the stars were late some didn't turn up. The staff didn't seem to know what was happening, some looked stressed out and others didn't seem to care. The venue was chaos (to be expected it's the mcm after all) however it seemed unorganised and a bit of a shambles. We left early because we had been messed about regarding the entrance and we traveled from Nottingham.
I will give it this it was better organised than the 2012 destination star trek .
---
Jack Parish shared his MCM experience meeting Summer Glau and Sean Maher. Read an excerpt below and follow the link for the complete convention report.
Then I had autograph session, they sat next to each other I stood in queue for Summer first however I was told to leave the line quickly to get Sean first from what I understood he was pushed for time I just had him sign half my photo-shoot picture, as I already had his individual autograph. Like I said he was really nice even if he didn't recognize me. I had Summer just after him but sadly he had just left as I got to her, I wanted to tell them both together how much I love Simon and River's characters. So I just told Summer, I said seeing Simon and River together brings a tear to my ear and how much I love there chemistry, I meant every word and I could tell she was touched and she told me how she feels that way with Sean and how blessed she was that she got to work with him. As she signed her River she wrote the quote "No power in the verse can stop me", just like Sean I did not ask her to do that but she did. On joint autograph, they both add little message Sean "Great to meet you" and Summer "Stay shiny". It just goes to show how much these two are so much, they like to send love to there fans, they don't seem to stop smiling and they are very warm-hearted people. They are truly a real-life Simon and River Tam.
---
Bonus story: we had a brief chat with MCM Comic Con crew member Claire, who had the heavy responsibility of keeping an eye on Summer's daughter Milena when her mom was on stage with her Firefly co-star Sean Maher. Milena could be heard chatting away and laughing during the entire panel.
My apologies to anyone attending the Firefly panel over the weekend. I was backstage with Summer Glau's little girl playing doctor to keep her occupied while Summer was onstage. She started laughing after I gave her a Mr Bean bendy toy, I was making it sneeze and she just broke out laughing. I believe we were heard but hey, I managed to keep the little one happy until she got upset when I had to leave.
---
You can see more photos of Summer posing with fans, signing autographs at her booth or at her panel in the MCM London Comic Con 2017 gallery album.
A huge thank you to those of you who sent in stories. If you, too, are interested in sharing your story/photos, just post them in the comment section below or send us an email.
On the same topic, check out photos and stories of fans who have recently shared with us their Summer Glau experience:
---
UPDATE 05/30/2017: Added Jack and Laurence's stories.
UPDATE 05/31/2017 : Added James's story.
29 May 2017