The blazer dress that Summer Glau was wearing as she walked the red carpet at TV Guide Magazine Annual Hot List Party on November 4, 2013 in Hollywood has been identified.
Find below photos of Summer Glau at TV Guide Magazine Hot List Party, as well as photos and a detailed description of the Spring/Summer 2012 Natalia Dress by Rachel Zoe:
Gallery link:
Natalia Double-Breasted Dress by Rachel Zoe.
The Rachel Zoe Natalia dress extends the timeless blazer silhouette into a fitted dress that strikes a sultry but professional balance.
Black ponte.
Notched collar; double-breasted button front.
Short sleeves.
Front flap pockets.
Formfitting silhouette.
Hem hits mid-thigh
Wool.
Imported.
Price: $173.00 (This item is no longer available)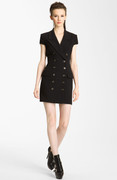 Feel free to share with us your thoughts on Summer Glau's look on the red carpet in the comment section below and/or take on our poll: Do you love Summer's blazer dress?
Watch more clothes Summer Glau was seen wearing at public events at: Clothes & Outfits
06 Nov 2013
Total comments: 3

Message #1 | chrisdvanne_ | 06 Nov 2013, 16:42 GMT

[

Entry

]

Took me a while but I managed to identify Summer's dress