Summer Glau guest stared on Chuck's episode titled "Chuck vs. the Fear of Death," which aired Monday, Nov. 15 2010.
Chuck and Summer Glau's Greta greetings aren't likely. Ew.com asked co-executive producer of Chuck Chris Fedak if there is any chance we're going to get to see Summer Glau come back for the role of Greta?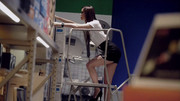 "I would love to bring Summer Glau back," Fedak says. "She, of course, left on bad terms at the end of her episode. She had kind of run afoul of Col. John Casey, but, listen, if we have the opportunity, I would love to bring summer Glau back. She's just wonderful."

Feel free to comment below or in the "Summer Glau's episode of Chuck" thread on the forum.
16 Mar 2011