DVD Movie :

SUPERMAN/BATMAN APOCALYPSE (2010)
In Superman/Batman: Apocalypse, Summer Glau voices a mysterious teen-aged girl with super-human powers, who happens to be Superman's cousin Kara Zor-El.
Plot summary :
The animated movie, based on popular DC Comics stories, begins with the arrival of Supergirl (voiced by Summer Glau) and she met Superman and Batman (Tim Daly and Kevin Conroy, reprising their roles) which are trying to help her adapt to a new world and her new powers. Wonder Woman also takes her under her wing, but all of their efforts are derailed when Darkseid (Andre Braugher) intervenes and manipulates Kara for his own evil purposes. It ends with Superman's official introduction of his cousin Kara Zor-El, "or as the world will come to know her, Supergirl."
Director :
Lauren Montgomery
Writer :
Tab Murphy, Jeph Loeb
Release date :
September 28, 2010 (USA) on DVD
Genre :
Animation | Action | Adventure | Sci-Fi
Production credits :
DC Entertainment, Warner Premiere
Andre Braugher as: Darkseid
Kevin Conroy as: Batman
Tim Daly as : Superman / Clark Kent
Susan Eisenberg as: Wonder Woman
Summer Glau as : Kara Zor-El / Supergirl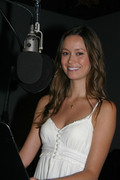 Superman/Batman: Apocalypse Trailer
Sneak peek on Superman/Batman: Apocalypse, introduced by Summer Glau, the voice of Supergirl.
Warner Premiere released a 12-minute behind-the-scenes look at movie (Summer Glau interview at 10:06)
This was a Summer Glau's very first voice over/animation experience. She loved the experience just working with her voice and could not think of an animated character that she would like to do more. Because Supergirl is amazing.