Take a look at Summer Glau's characters fashion and style as seen on TV and movies. Find below some of the clothes, shoes, jewelery and beauty products that Summer Glau had the pleasure of wearing on screen.
This page contains only a small selection of Summer Glau's on screen items. Click on a movie/tv show on the list below to go the corresponding page, in which you can get detailed informations and more on screen items worn by Summer that have been identified over time, or simply scroll through this page and check out the complete list of of identified items worn by Summer Glau in a particular show by following the link at the bottom of each sample.
Summer Glau style, fashion and looks by TV show/Movie (click on link to see on screen items)
The Cape - Orwell fashion and style
Serenity - River Tam fashion and style
Rock & Republic Purple Leather Jacket
Summer Glau wore a leather biker style purple jacket in 'Terminator: Sarah Connor Chronicles (2008_2009).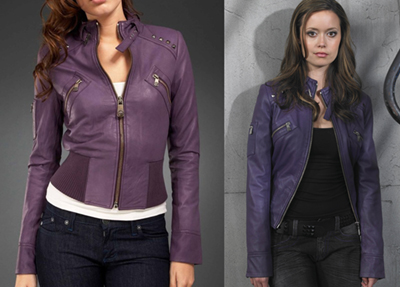 ---
Judith & Charles Cosette Dress
Jacquard (40% Polyester, 32% Cotton, 15% Acetate, 9% Polyacrylic, 4% Other fibre) Sheath Back zipper closure
Celtic Heart Concho
Summer Glau's character Gwen the Fearless was wearing a pair of Celtic Heart Conchos on her chest in horror comedy "Knights of Badassdom".
Check out the complete list of identified items worn by Summer Glau in Arrow at: Arrow Style and Fashion
Take a look at Summer Glau's off-screen fashion and clothing styles at: Clothes & Outfits
Take a look at Summer Glau's jewelry and accessories at: Jewelry & Accessories