DEADLY HONEYMOON (2010)
Character: Lindsey Forrest
Format: Television Film
Director: Paul Shapiro
Writers: Ron McGee
Genre: Crime, Drama, Suspense
Nationality: US
Release date: April 25, 2010 (USA) on Lifetime Movie Network
Other cast: Chris Carmack, Zoe McLellan, Mark Harelik
Production credits: Island Film Group, Marvista Entertainment
PLOT SUMMARY
Deadly Honeymoon follows two young Denver newlyweds, Lindsey (Summer Glau) and Trevor Forrest (Chris Carmack), as they embark on their honeymoon cruise from their picture-perfect wedding in Hawaii. What begins as a dream vacation evolves into a night of wild partying, infidelity and strange encounters with a group of passengers. The next morning the passengers awake to find Trevor missing, presumed to have fallen overboard to his death. But as the investigation proceeds, an FBI Investigator (Zoe McLellan) begins to question if Trevor's death really was just an accident.
SELECTED PHOTOS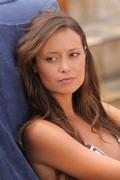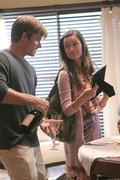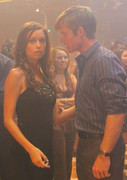 OFFICIAL TRAILER
TRIVIA
Deadly Honeymoon was based on a real story. In 2005 there was an incident on a cruise ship were the husband disappeared and the cause of his disappearance was never solved. The movie gives a speculative answer as to what might have occurred.
The movie started shooting in Hawaii in September 2009 with the wedding scene; it has given rise to an amusing scene involving Summer Glau, her co-star Chris Carmack and her real-life boyfriend: Deadly Honeymoon - Wedding scene in paradise
Deadly Honeymoon wasn't filmed on an actual ship, it was all green-screen. See this exclusive video of the special effects: Behind the magic: building a digital cruise ship for Deadly Honeymoon
Mark Harelik, who plays the captain of the cruise ship in "Deadly Honeymoon", plays the jealous Count Kurksov in Summer Glau's Angel episode "Waiting in the Wings"
FILMING LOCATIONS
Halawa Valley Studios, Halawa, O'ahu, Hawaii, USA
Honolulu, O'ahu, Hawaii, USA
Kahala Hilton - 5000 Kahala Avenue, Honolulu, O'ahu, Hawaii, USA
QUOTES