Character: CIA agent Greta
TV series: Chuck (2007-2012)
Creator: Chris Fedak, Josh Schwartz
Seasons: 5
Genre: Action, Comedy, Drama
Original channel: NBC
Premiere date: September 24, 2007 (USA)
Other cast: Zachary Levi, Yvonne Strahovski, Adam Baldwin, Joshua Gomez
Episode(s) with Summer: 4.08 - Chuck Versus the Fear of Death
PLOT SUMMARY
The show follows geeky Chuck, who accidentally became the mental host of the Intersect, an unprecedentedly powerful computer mind containing all information available to the US government, he's a primordial national security asset and risk. So CIA and NSA assign two agents to guard Chuck, and often get involved with him in spy adventures. Meanwhile his identity must be kept secret from his family and goofy colleagues in Buy More, the Burbank electronics store where he works as a cover.
4.08 - Chuck Versus the Fear of Death
aired on November 15, 2010
Directed by: Robert Duncan McNeill | Written by: Nicholas Wootton
Afraid that his latest setback is driving a wedge between him and Sarah, Chuck resolves to prove himself by going on a dangerous mission with the overeager Agent Rye (guest star Rob Riggle). Meanwhile, Morgan and Casey scramble as the 'Buy Morons' attempt to uncover the true identity of Greta (guest star Summer Glau).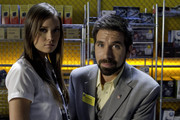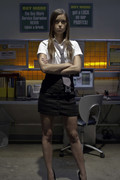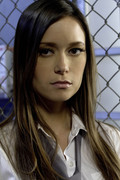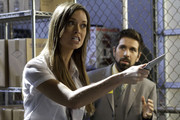 ___________________________________
CHUCK 4.08 - SNEAK PEEK
TRIVIA
Summer Glau reunited on set of Chuck with her former Firefly co-star Adam Baldwin. Here's a behind the scenes photo of her in uniform, side by side with Adam:
QUOTES