CASTLE
Character: Private detective Kendall Frost
TV series: Castle (2009-2016)
Creator: Andrew W. Marlowe
Seasons: 8
Genre: Comedy, Drama
Original channel: ABC
Premiere date: March 9, 2009 (USA)
Other cast: Stana Katic, Nathan Fillion, Jon Huertas, Seamus Dever, Molly C. Quinn
Episode(s): 8.14 "The G.D.S."
PLOT SUMMARY
After a serial killer imitates the plots of his novels, successful mystery novelist Richard "Rick" Castle gets permission from the Mayor of New York City to tag along with an NYPD homicide investigation team for research purposes. A "guy's guy", he proves popular with the male team members, but immediately offends the sensibilities of the team leader, Detective Kate Beckett. Though she'll never admit it, he slowly wins her over with his innovative approach to crime solving. He brings to the table skills the others don't have: contacts in Manhattan high society, free-form creative thinking, and years of developing believable fictional characters that have inadvertently molded him into a natural criminal profiler. But life is not all crime fighting adventure for this wealthy playboy: his relationship with Beckett becomes even more strained when he unveils a new series of detective novels featuring a racy character based on her, and his home life is dominated by his mother (a fading Broadway diva) and his whip-smart teen-aged daughter.
EPISODES FEATURING SUMMER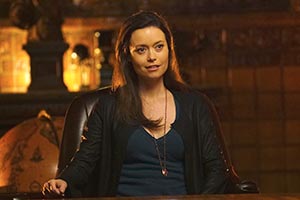 Season 8, Episode 14 "The G.D.S."
Original air date: March 7, 2016
Castle returns to the City of Angels in search of answers about his missing time. But things take a deadly turn when he is challenged by the legendary Greatest Detective Society to find a serial killer and is pitted against Kendall Frost, a heady private investigator.
SELECTED PHOTOS
See more photos in the gallery.
TRAILER
See more clips in the video gallery.
TRIVIA
QUOTES