Misc. News on Pilots and Series
Date: Friday, 2016 Nov 04, 02:20 GMT | Message #
1726
NBC Orders More 'Timeless' For Monday Nights

NBC has ordered an additional three episodes of their Monday night time-travel drama Timeless, the network announced on Tuesday. With the partial back-order, the network has ordered a total of sixteen episodes for the show's first season.

Timeless has been a strong performer for NBC. Across its four weeks on air, it was the top rated show in it's time slot, beating competition on both ABC and CBS in live+same day. Season-to-date the series is averaging an L7 audience of 10.7 million viewers and a 2.7 A18-49 rating: making it the top-rated 10pm Monday drama in the demo.

The drama series stars Abigail Spencer, Matt Lanter, Malcolm Barrett, Goran Visnjic, Sakina Jaffrey, Paterson Joseph, Susanna Thompson and Claudia Doumit.

I quite enjoy Timeless the show adds a bit of fun into sci-fi. And I'm really looking forward to seeing where it's headed (and not be-headed the dreaded cancellation). Nice to see Susanna Thompson (Arrow) in the show. Probably NBC is sitting on the fence with this show adding just 3 additional episodes to its order.

Via: Variety


---
Abigail Spencer visits at SiriusXM Studio on October 7, 2016 in New York City. (Photo by Robin Marchant/Getty Images)


Date: Friday, 2016 Nov 04, 02:44 GMT | Message #
1727
Fox Gives "Lucifer" A Full Season

Fox has handed out a full season order for the second run of its supernatural comedy "Lucifer"

The Warner Bros. TV-produced series, starring Tom Ellis as the bored falling angel who decides to move to Los Angeles and team with a female cop.

The show has been a modest performer in live ratings but scores double-digit gains in Nielsen's L3 and L7 delayed-viewing stats. The show is averaging 6.6 million viewers in Live +7. When multiplatform viewing is factored in, that jumps to 8 million.

Fox's back-nine order brings the show's total episode tally for season two to 22.

Lucifer is quite a fun show, witty and funny, and enjoyable because of Tom Ellis and his chemistry with Lauren German.

Via: Variety


---
DB Woodside, Tricia Helfer and Tom Ellis from FOX's 'Lucifer' pose for a portrait during the 2016 Television Critics Association Summer Tour at The Beverly Hilton Hotel on August 8, 2016 in Beverly Hills, California. (Photo by Maarten de Boer/Getty Images)


Date: Saturday, 2016 Nov 05, 22:36 GMT | Message #
1728
Friends
Messages: 46
Location:
NL
Offline
Life is about to get flipped, turned Upside Down on "Stranger Things."
Everyone is back in a trippy new Season 2 production photo, including Eleven (Millie Bobby Brown)! At least, we think so. You might need to flip your computer or phone around to see it.




"Stranger Things" decided to be all cute and post it upside down. The caption, when flipped back around, reads, "Back in production see you next year."

For everyone who's having a hard time, Finn Wolfhard, who plays Mike Wheeler on the show, also posted the photo in a more easily digestible format. And there's Eleven right in the middle.




We've had hints that Eleven would be back, and TV Line reported the character may even be a series regular in Season 2. But the proof doesn't get more solid than Wolfhard writing, "#elevenisback."

Now let's hope she makes it in time for the Snow Ball. Because Mike doesn't want to go with a friend. No, not a friend. Someone like ... someone like a ...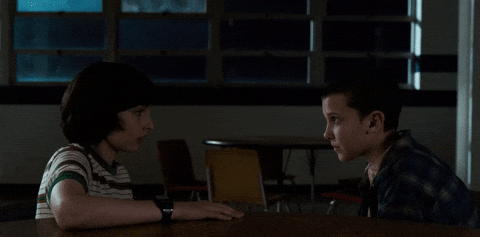 Awwww. So cute I wanna die. Just come get me now, Demogorgon. Barb probably needs some friends anyway.
"Stranger Things" Season 2 premieres in 2017.

Via: Huff Post
---
don't bother they're here
Date: Saturday, 2016 Nov 12, 03:01 GMT | Message #
1729
'Outlander' Season 3 Casts The Dunsany Sisters, Geneva & Isobel

Outlander has cast two more key characters for Season 3 of Starz's hit time-travel saga. Newcomers Hannah James and Tanya Reynolds will play the Dunsany sisters, Geneva and Isobel, respectively.

James' Geneva, the eldest daughter, is as beautiful as she is headstrong. Yet she's also petulant, spoiled and demanding of the servants at their home - Helwater. Geneva's accustomed to getting exactly what she wants when she wants it. Underneath however she has a vulnerability - even a naivete' due to her sheltered life. Reynolds' Isobel, Geneva's younger sister, is warm, friendly and genuine. Though more plain than her sister, Isobel is inherently more likeable and compassionate towards others. In addition to stars Balfe and Heughan, they join new Season 3 cast members Cesar Domboy, Lauren Lyle, Wil Johnson, John Bell and David Berry.

From developer/executive producer Ronald D. Moore and Sony Pictures TV, Season 3 will be based on the third of the eight books in Diana Gabaldon's Outlander series, entitled Voyager. The third season picks up right after Claire (Caitriona Balfe) travels through the stones to return to her life in 1948. Now pregnant, she struggles with the fallout of her sudden reappearance and its effect on her marriage to her first husband, Frank. Meanwhile, in the 18th century, Jamie (Sam Heughan) suffers from the aftermath of his doomed last stand at the historic battle of Culloden, as well as the loss of Claire.

Filming began for the 13-episode Season 3 in August in Scotland and the production will move to South Africa in 2017.

Via: Deadline


---
Caitriona Balfe attends The Weinstein Company and Netflix Golden Globe Party, presented with FIJI Water, Grey Goose Vodka, Lindt Chocolate, and Moroccanoil at The Beverly Hilton Hotel on January 8, 2017 in Beverly Hills, California. (Photo by Jonathan Leibson/Getty Images for FIJI Water)


Date: Saturday, 2016 Nov 12, 03:22 GMT | Message #
1730
CW Orders More "Legends" Episodes

The CW has ordered an additional four episodes to the second season run of "DC's Legends of Tomorrow". That will bring the show's run to a total of seventeen episodes in its sophomore season.

Though it's the lowest-rated (but most expensive) of the CW's superhero quartet of shows, "Legends" is a healthy performer for the network averaging 2.34 million viewers and a 0.9 rating. The show has improved its time period by 13% among adults 18-49 and 35% in total viewers.

All The CW's other superhero shows have full season orders with "Arrow" and "The Flash" scoring 23 episodes and "Supergirl" nabbing 22 episodes. The CW still hasn't made a decision on the future of its new fall series "No Tomorrow" and "Frequency."

Well, congrats to everyone on "Legends" they certainly look as though they are having a great time on the show.

Via: Variety


---
Caity Lotz and Arthur Darvill of CW's 'Legends of Tomorrow' pose in the Getty Images Portrait Studio at the 2016 Winter Television Critics Association press tour at the Langham Hotel on January 10, 2016 in Pasadena, California. (Photo by Maarten de Boer/Getty Images Portraits)


Date: Saturday, 2016 Nov 12, 14:45 GMT | Message #
1731
Friends
Messages: 1193
Location:
GB
Offline
G'day robbo.  I watched the entire Legends episodes.   You never knew where they were going next.
Date: Friday, 2016 Nov 25, 01:44 GMT | Message #
1733
'Falling Water' Landing Amazon Deal, Eyes Season 2 Renewal At USA

Amazon is finalizing a deal for exclusive subscription VOD rights to Falling Water, USA Network's new supernatural thriller from the late Henry Bromell (Homeland), Brotherhood creator Blake Masters and The Walking Dead executive producer Gale Anne Hurd. The pact is a shot in the arm for the fledgling series and boosts its renewal chances. 

Falling Water had an inauspicious ratings start on USA. Possibly a better fit for sibling Syfy than general entertainment network USA, Falling Water has been averaging 450,000 viewers in Live + Same Day. Its viewership has risen above 600,000 in Live +3 with solid 30% + lifts. 

With its dense mythology, Falling Water is considered better suited for a streaming service than a traditional network. Additionally, its viewership has been very steady, indicating the show has built a small but devoted fan base, something VOD platforms seek. 

If Falling Water is renewed by USA as most indications suggest, it would be the second series on the network saved by an innovative multi-platform deal. It would join comedy Playing House, which now has its premiere on VOD via a pact with Xfinity. 

Falling Water tells the story of three unrelated people who slowly realize they are dreaming separate parts of a single common dream. The deeper they dig, the more they come to realize that the visions found in the dream just might hold the key to the fate of the world. Lizzie Brochere, David Ajala and Will Yun Lee star. 

I'm actually quite enjoying it, I wouldn't go as far to say well the show is excellent. I'm not so sure whether the show is better than Sense8!

Via: Deadline
Date: Friday, 2016 Nov 25, 02:10 GMT | Message #
1734
"Sense8" Finally Confirms Season 2 Is Coming Back In 2017

The Most awaited "Sense8" finally confirms it's come back for Season 2, and actor Sikander Kher will be joining the cast as the new villain in the series. Notions has been rolling around the net that Kher has been demanding a lot of things from the channel, reason why rumors began to surface as the series' delayed air date. 

Meanwhile Lana Wachowski will be directing the series on which she amazed the cast during their meeting at Berlin about her plans and writings for the series. 

The air date until now has been elusive but speculations relays that it would be aired on June 2017. The speculation date has been based on Netflix tradition of airing the series for the past season. 

Via: GamenGuide
Date: Friday, 2016 Nov 25, 02:35 GMT | Message #
1735
'Gotham' Casts James Remar As Jim Gordon's Uncle

James Remar has been cast in a recurring role on "Gotham"

Remar will play Frank Gordon, Jim Gordon's (Ben McKenzie)'s uncle. The date of his debut episode, nor the amount of episodes in which he'll appear, have not been announced.

The character is described as a master at playing both sides, and a man who knows how to keep a secret. Frank Gordon abandoned the family after Jim's father's fatal car crash and now, twenty-five years later, he's returned to reconnect with his estranged nephew - but Frank harbors a dark secret, one that will upset the very foundations of Jim's world and force him into a terrible choice between saving his family and saving his city.

"Gotham" is the latest TV gig for Remar, who starred on "Dexter." He was recently on MTV's sci-fi series "The Shannara Chronicles," and also joined Season 2 of "The Path" on Hulu. His other credits include "Grey's Anatomy" and "Sex and the City" for which he was nominated for a SAG award.

Via: Variety


---
James Remar attends the SAG-AFTRA Foundation 8th Annual L.A. Golf Classic Fundraiser at Lakeside Golf Club on June 12, 2017 in Los Angeles, California.


Date: Friday, 2016 Nov 25, 03:47 GMT | Message #
1736
Ed Harris Returns For "Westworld" Season 2

The closest thing HBO's "Westworld" has to an antagonist is Ed Harris' brutal black-suited cowboy known only as the Man in Black. He's a guest, a long standing one at the park, who is also one of its most brutal occupants.

Harris' character has spent much of the first season in pursuit of a hidden truth within the game, and it sounds like he'll be continuing that in the show's second season with Harris confirming on BBC Radio 4 that he will be back for the second season:

"Yeah, you know, as a matter of fact, I was just talking to Jonah Nolan last night, who's a creator of this thing with his wife Lisa Joy, and yeah, they're doing another season. They're going to do ten more episodes, and I will be involved."

The first season still has two episodes left to air with plans to get crazier in its few remaining hours. The second season will premiere in either late 2017 or early 2018 on HBO.

Can't believe we're almost at the end of the first season and there won't be another season until 2018. It's gonna be a long wait unfortunately! Fantastic show.

Via: The Wrap


---
Ed Harris arrives at the "Westworld" screening and panels at The Paley Center For Media's 34th Annual PaleyFest Los Angeles at Dolby Theatre on March 25, 2017 in Hollywood, California.


Date: Tuesday, 2016 Nov 29, 13:32 GMT | Message #
1737
Friends
Messages: 1193
Location:
GB
Offline
# 1736 Hiya robbo  Dyer need a lodger pay all your bills? Just thought I'd mention it.  (Only joking, I've got too much property and a nice dog, Hank).

Anyway, amazing that Ed Harris plays a role like the Man in Black, #

Westworld

.

Only a couple of days ago, I saw his 2013 film

The Face of Love

with Annette Bening.  He was the dead opposite in that, just like what he was in the film #

Stepmom

1998 with Susan Sarandon and Julia Roberts.
Message edited by
KevinInEngland
-
Tuesday, 2016 Nov 29, 13:33
Date: Wednesday, 2016 Nov 30, 02:45 GMT | Message #
1738
# 1737 Hiya Kevin  Please don't tell me it's Danny? Yeah Mr. Ed is playing a canny role as the mysterious Man in Black, happy birthday Ed - he's just turned 66 year-old a couple of days ago. 

He's a cracking actor, I personally enjoyed as one of my favorite films on his CV, was the mystery movie "Glengarry Glen Ross" (1992) with Al Pacino, Jack Lemmon and Kevin Spacey.

Absolutely as you say a totally different guy for those movies that he was starring in.
Date: Wednesday, 2016 Nov 30, 02:57 GMT | Message #
1739
"Z Nation" Scores A Fourth Season

Syfy has renewed its zombie apocalypse drama "Z Nation" for a fourth season of thirteen more episodes.

Actors Anastasia Baranova, Russell Hodgkinson, Nat Zang and Emilio Rivera are all expected back while Karl Schaefer will continue to serve as showrunner.

The drama has been a solid ratings performer for the cable network on Fridays, averaging 1.2 million viewers with around 45% of them in the key adults 18-49 demo in Live+3 results.

The series often ranks among cable's top ten most-watched scripted series. Its current third season finale airs December 16th.

Via: Syfy


---
Anastasia Baranova attends the Zadig & Voltaire and Flaunt Celebration of The FW16 Collection and The Oh La La Land Issue: Ouest Coast at Zadig & Voltaire on October 27, 2016 in Los Angeles, California.


Date: Wednesday, 2016 Nov 30, 03:46 GMT | Message #
1740
Stephen Root Is "The Man In The High Castle"

Amazon studios have announced that veteran actor Stephen Root ("Selma," "Finding Dory," "Office Space") has landed the title role in its "The Man in the High Castle" TV series adaptation of Philip K. Dick's alternate history novel. 

Set in the former United States after the Allied Powers lost World WarII, Root will play the mysterious figure tied to the Resistance movement who collects the enigmatic films that seem to depict alternate versions of reality - the ones the Japanese and Nazis want to find and destroy. 

The second season premieres on December 16th and picks up with political tensions mounting between Germany and Japan. Juliana Crain (Alexa Davalos) facing the consequences of her decision to betray the Resistance and allow Joe Blake (Luke Kleintank), a suspected Nazi agent, to escape the Pacific States with a film originally bound for the Man in the High Castle. 

Damn good casting, he's a pretty good actor. I'm looking forward to the second season of this one. 

Via: Deadline