Fans often ask me where the picture below, featuring Summer Glau in a tight fitting sleeveless dress and zebra stripe bra, comes from. And indeed, you could not have seen it in one of Summer's movies or TV shows, for the simple reason that it's from a deleted scene from the third episode of the first season of Terminator: The Sarah Connor Chronicles, titled "The Turk".
The deleted scene from "The Turk" has never been released in any of the bonus features of the DVD/Blu-ray. Had this photo not been released among the production stills for the episode, fans would never have heard of its existence. The scene in question takes place at the begining of the episode, when Sarah and John are discussing in Sarah's bedroom and Cameron walks by. It looks like Josh Friedman was not happy with this piece of clothing and decided to have Cameron walk by in her underwear instead.
It's difficult to say exactly why Friedman decided to change the way Cameron is dressed but you'll notice that the original scene was completely different from the one that aired, at least when it comes to Cameron. In the scene, John and Sarah are sitting on the bed, while Summer is standing in front of the open door, with a broad smile on her face, presumably looking at John and Sarah.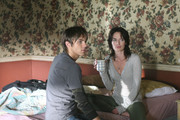 And here are the screencaptures of the scene that aired on TV, taken from the Blu-ray. As you all remember, Cameron is now in her underwear and she's simply walking by, without looking at John and Cameron. You'll also notice that if Cameron has lost her dress in the process, she has kept a zebra stripe bra, only in purple color color this time, instead of turquoise blue. Probably because Cameron is a fashionable Terminator.
What's the difference, you may say? Well, Friedman maybe thought that it would be even more creepy and uncomfortable for John and Sarah if Cameron did not care about the other inhabitant of the house and as if walking around in the house in her underwear was just "business as usual" for Cameron. It reminds me of a scene in the pilot, right after Sarah, John and Cameron escaped Cromartie and Sarah told Cameron - who was pulling out the bullet from her naked body - , "You might want to put those back in their holster", speaking about putting back her bra. Cameron's chip may be the most advanced computer on Earth, she's like a child when it comes to human behaviours.
That, or Friedman thought that fans would be even more pleased to see Cameron in her underwear, in a fan service kind of way.
Btw, saying this original scene has never been shown is not entirely correct. While it's true it wasn't in the episode that aired on TV or in the DVD bonuses, you can catch a glimpse of that scene in the video clip for a song titled "Rise Today", by hard rock band Alter Bridge. Indeed, this song was featured in FOX's promo music video for the January 13th, 2008 series premiere of Terminator: The Sarah Connor Chronicles on FOX.
Enjoy the video clip; the "blink and you'll miss it" scene with Thomas Dekker, Sarah Connor and Summer Glau in her original outfit is at 1:27 of the video.
Fell free to give your own interpretation of this change and tell which Cameron outfit (or lack of) you prefer.
Category:
Summer Glau
|
Total comments: 3

Message #3 | KevinInEngland | 04 Jan 2016, 16:42 GMT

[

Entry

]


Yes, it was just a quick flash shot of her.
Of course, Cameron in her underwear enticing her son John played on Sarah's mind so much that she dreamt about it in the sleep clinic whilst she was drugged up by Ed Winston.  It obviously bothered her so much that seeing Cameron breastfeeding a baby tortoise (eg John's son/daughter) in her dream, bothered her a lot.  She feared that she would lose John to Cameron, "a metal stealing bitch" is what she would probably say. Haha. The newborn's nursery first featured when Kacy went in to hospital and for some reason it stuck in Sarah's mind.  My guess is that she knew it couldn't happen but just supposin' John went with Cameron and they had a child of Skynet.
Sarah was always quite troubled.  Hardly surprising after all the drugs she was given in Pescadero by Peter Silberman.