Check out below production images from the
Superman/Batman: Apocalypse
animated feature voice starring Kevin Conroy as Batman, Tim Daly as Superman, Summer Glau as Supergirl/Kara Zor-el, Andre Braugher as Darkseid and Susan Eisenberg as Wonder Woman.
The images below features design work and character models sheets for the DC Universe Animated Original Superman/Batman: Apocalypse made by storyboard artist Sam Liu, including Liu's own comments for some of the characters sheets.
Supergirl Turn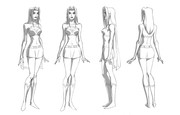 Superman/Batman Apocalypse hit the shelves last Tuesday. I had the good fortune to be asked to do the designs for this movie. Even though I don't consider myself a character designer, it was a lot of fun and a lot of stress trying to emulate Michael Turner's style. Special thanks goes out to Jeff Johnson for doing a ton of the heavy lifting with the finishes, turns and, and incidental designs.
Wonder Woman and Big Barda Turns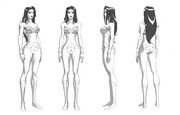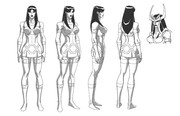 Wonder Woman and Big Barda turns for the Superman/Batman Apocalypse DTV. Based off of Michael Turner's designs.
Jeff Johnson did this turn on Barda with some touch ups from me. Especially the face since she was my favorite of this movie and I had a pretty specific look I was trying to get.
Superman and Batman Turns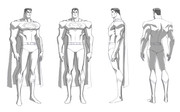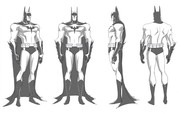 Superman and Batman turns for the Superman/Batman Apocalypse DTV. Based off of Michael Turner's designs.
Darkseid and Misc Superman/Batman Apocalypse Characters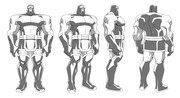 The Green Lantern animated series is winding down. As I was clearing space off of my computer I found this Darkseid turn we did for Superman/Batman Apocalypse back from the DTVs. I did the initial design and Jeff Johnson did the actual turn.
When we were going through the approval process, we were instructed to make his head bigger. But director Lauren Montgomery decided to revert him back to the original "small head" version when she did her attitude sheets. That's why she is a badass in my book haha.
I've adjusted the model and proportions to the longer and less squat version and did a quick shadow treatment on it.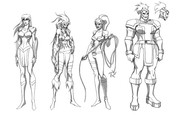 The second is a page of initial sketches for the Furies (Guilotina, Mad Harriet, Lashina, and Stompa). Based off of Michael Turner's designs from the comicbook.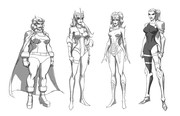 The third is a page of other secondary characters (Granny Goodness, Treasure, Harbinger, and Artemis) again based off of Michael Turner's designs.
The last is Doomsday.
Category:
Superman/Batman: Apocalypse
|
Total comments: 2

Message #1 | KevinInEngland | 25 Apr 2013, 18:05 GMT

[

Entry

]


Nice. I'd love to be able to draw cartoon sketches like that.   Nicely laid out Chris, they look attractive.

Message #2 | chrisdvanne_ | 25 Apr 2013, 18:05 GMT

[

Entry

]

Kara Zor-El/Supergirl looks beautiful. Storyboard artist Sam Liu has done the Last Daughter Of Krypton justice