Home » Superman/Batman: Apocalypse
---
Check out below production images from the
Superman/Batman: Apocalypse
animated feature voice starring Kevin Conroy as Batman, Tim Daly as Superman, Summer Glau as Supergirl/Kara Zor-el, Andre Braugher as Darkseid and Susan Eisenberg as Wonder Woman.
The images below features design work and character models sheets for the DC Universe Animated Original Superman/Batman: Apocalypse made by storyboard artist Sam Liu, including Liu's own comments for some of the characters sheets.
Supergirl Turn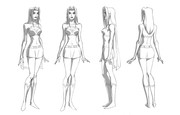 Superman/Batman Apocalypse hit the shelves last Tuesday. I had the good fortune to be asked to do the designs for this movie. Even though I don't consider myself a character designer, it was a lot of fun and a lot of stress trying to emulate Michael Turner's style. Special thanks goes out to Jeff Johnson for doing a ton of the heavy lifting with the finishes, turns and, and incidental designs.
Wonder Woman and Big Barda Turns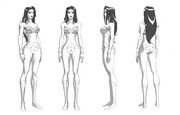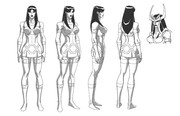 Wonder Woman and Big Barda turns for the Superman/Batman Apocalypse DTV. Based off of Michael Turner's designs.
Jeff Johnson did this turn on Barda with some touch ups from me. Especially the face since she was my favorite of this movie and I had a pretty specific look I was trying to get.
Superman and Batman Turns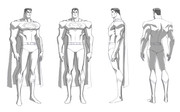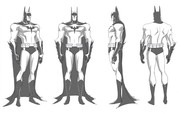 Superman and Batman turns for the Superman/Batman Apocalypse DTV. Based off of Michael Turner's designs.
Darkseid and Misc Superman/Batman Apocalypse Characters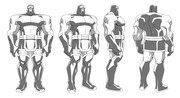 The Green Lantern animated series is winding down. As I was clearing space off of my computer I found this Darkseid turn we did for Superman/Batman Apocalypse back from the DTVs. I did the initial design and Jeff Johnson did the actual turn.
When we were going through the approval process, we were instructed to make his head bigger. But director Lauren Montgomery decided to revert him back to the original "small head" version when she did her attitude sheets. That's why she is a badass in my book haha.
I've adjusted the model and proportions to the longer and less squat version and did a quick shadow treatment on it.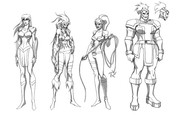 The second is a page of initial sketches for the Furies (Guilotina, Mad Harriet, Lashina, and Stompa). Based off of Michael Turner's designs from the comicbook.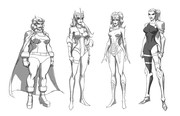 The third is a page of other secondary characters (Granny Goodness, Treasure, Harbinger, and Artemis) again based off of Michael Turner's designs.
The last is Doomsday.
---
Superman fans in the U.K. and Europe can look forward to a couple of DVD releases in June which will collect together the best of Superman's animated adventures.
"Superman Animated Movie Collection" will collect together 5 of Superman Animated Movies on 5 discs, including the newest animated movie "Superman: Unbound". The other four animated films included in this collection are "Superman: Doomsday", "Superman Vs The Elite", "Superman/Batman: Public Enemies", and "Superman/Batman: Apocalypse" (voice starring Summer Glau as Kara Zor-El).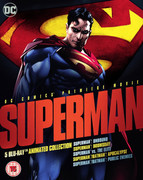 From the press release:
Collection of five animated features following the adventures of the DC Comics superhero.
In 'Superman: Unbound' (2013), with the help of his cousin Supergirl (voice of Molly C. Quinn), Superman (Matt Bomer) goes up against extraterrestrial villain Brainiac (John Noble), who has been wreaking havoc across the universe, stealing cities and destroying planets, including the hero's home Krypton. With Brainiac now on Earth, Superman does all he can to prevent it, and its people, from meeting the same fate.
In 'Superman: Doomsday' (2007), Superman (Adam Baldwin) goes up against his toughest opponent yet when LexCorps unintentionally release a powerful villain known as Doomsday. In an attempt to save the city of Metropolis Superman must engage in a fight to the death. In 'Superman Vs The Elite' (2012), Superman (George Newbern) questions the methods of The Elite, a new group of superheroes led by Brit Manchester Black (Robin Atkin Downes), who believe the only way to rid the world of evil is to kill villains. Superman, however, is determined to protect the people of Earth without causing more death. As The Elite's exploits get out of hand, Superman finds himself with no choice but to take them down.
In 'Superman/Batman: Public Enemies' (2009), Superman (Tim Daly) and Batman (Kevin Conroy) join forces to destroy a Kryptonite meteor that is heading directly towards Earth. With new US President Lex Luthor (Clancy Brown) wanting to take the glory for the meteor's destruction, however, Superman finds himself accused of murder and both he and Batman, with the help of Power Girl (Allison Mack), must successfully defeat an army of villains before they can continue with their plans to save the world.
In the sequel, 'Superman/Batman: Apocalypse' (2010), Superman (Daly)'s cousin Kara Zor-El (Summer Glau) arrives in Gotham City but causes problems when she is unable to control her powers. After training at Themyscira, Kara is captured by the evil Darkseid (Andre Braugher). With the help of some fellow heroes, including Batman (Conroy), Superman goes to rescue his cousin.
Producers: Lauren Montgomery, Bobbie Page, Michael Goguen
Format: PAL
Region: Region 2 (This DVD may not be viewable outside Europe)
Number of discs: 5
Studio: Warner Home Video
The Superman Animated Movie Collection will be released on June 3, 2013, but you can pre-order it on
Amazon
.
Watch this sneak peek on Superman/Batman: Apocalypse, introduced by Summer Glau:
Watch the series of four exclusive clips made for the release of the DC Comics animated movie Superman/Batman: Apocalypse on Amazon, featuring the voice actors Kevin Conroy (Batman), Andre Braugher (Darkseid) and Summer Glau (Supergirl) at: Sneak peek on Superman/Batman: Apocalypse
---