These are the moments that make me truly appreciate cosplay; when a cosplayer meet Summer Glau at a convention and they decide to strike a wacky pose, magic happens. The following photo, taken at this year's
London Film and Comic Con
, is probably one of the most amazing photo op with Summer ever.
Find below the story behind this amazing photo op with Summer Glau, including the exclusive photos and comments from Trevor Price, the imaginative fan hiding behind this custom made costume.
If you don't recognize the character Trevor is cosplaying, then you probably aren't familiar with Cartoon Network's animated series Powerpuff Girls, and with the archenemy of the girls and main antagonist of the series, Mojo Jojo.
Trevor has detailed in a blog post how he created his version of Mojo Jojo, including idea generation, sketching, researching materials and fabrication. Find below a few pictures from the costume's creation process, that Trevor kindly allowed us to use (last two pictures by
Food and Cosplay
).
Trevor was kind enough to send us a few words on his meeting with Summer at LFCC and the inspiration behind his photo op with her.
I knew Summer from a number of shows including Terminator the Sarah Connor chronicles, Arrow, Alphas, The Cape and Dollhouse.
Originally I planned to have her choking me in her character Terminator however I changed my plans when it became apparent I would have to do it in Mojo Jojo after her flight got cancelled. On the day of the photo shoot, she was wearing a flowy dress which didn't scream Terminator, so I improvised and decided to do a proposal: I got down on one knee with Buttercups head serving as a ring. She was shocked. I also learnt taking a knee in that cosplay was difficult.
I didn't really have time to present my idea to her as the shoot is like a 10 second thing. Knowing this and that I couldn't be understood easily in the mask I just got into position as fast as possible.
Bonus: Trevor's photo op with Lena Headey.
Originally I was just going to have a simple pose with Lena, my Joffrey POP vinyl and well...me. However as I was Mojo Jojo this became a truly amazing shot which I love! It became a Mojo Jojo family portrait of sorts.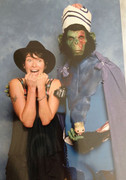 A huge thank you to Trevor Price for allowing us to reproduce his comments and photos...and of course for giving fans the opportunity to be amazed at his unique photo ops.
On the same topic, you can read: Awesome Photos of Summer Nerding Out at LFCC
Category:
Convention
|
Total comments: 1

Message #1 | chrisdvanne_ | 22 Aug 2014, 00:23 GMT

[

Entry

]

In case you did not notice, the object Trevor is holding in his hand is the bloody head of a doll, hence Summer's reaction