Maxim has released its yearly Hot 100 Women poll for 2013.
You can vote for the sexiest women of this year by selecting as many as you want in the list. Since Summer Glau is not in it, you'll have to manually enter her name in the write-in box at the top of the page.
I have the sense that the results are decided in Maxim's editor's room (like what happenened for FHM Top 100) and not by our votes, at least not entirely.
FYI, Summer Glau ranked #87 on Maxim's 2009 Hot 100 list and had a small picture of her in Maxim Magazine; winner was Olivia Wilde.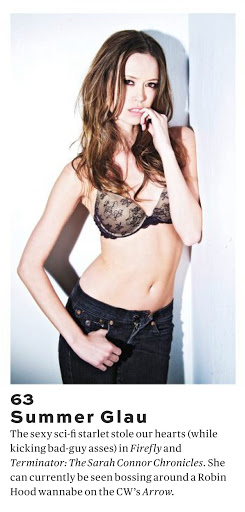 Summer also placed in Maxim's Hottest Bots list as Cameron (Terminator : The Sarah Connor Chronicles).
Category:
Summer Glau
|
Total comments: 1

Message #1 | robbo | 21 Dec 2012, 01:52 GMT

[

Entry

]

summer glau not in the maxim hot 100, are they blind in the maxims editors room, gods streuth pour me a fosters summer should be in the top 20, never mind 100, she is one of the sexiest woman that walks the earth, enough is enough lets get voting, no problem summer you have got my vote,