Summer Glau's reprogrammed Terminator Cameron in the TV show Terminator: The Sarah Connor Chronicles and Chloe Moretz's vigilante Hit-Girl in the movie Kick-Ass have in common the fact that they are two of the most badass girls (well, technically a cyborg for one of them) in recent movie/tv show history. On the fashion front, Cameron and Hit-Girl's most iconic piece of clothing are without a doubt their purple leather jackets.
Summer Glau's character Cameron was very complex as she had to balance herself between human abilities and robotic nature. She was supported by tremendous outfits that enhanced sensitivity of the role. Her attractive leather jacket having purple color gained instant popularity after her role was introduced in the series and Cameron even showed concerns about it when the Connors where robbed. FYI, Summer Glau rocked on in a leather biker style jacket by Rock & Republic.
Find below a description as well as photos of the iconic purple leather jacket worn by Summer Glau as Cameron in 'Terminator: Sarah Connor Chronicles'.
Rock & Republic Leather Jacket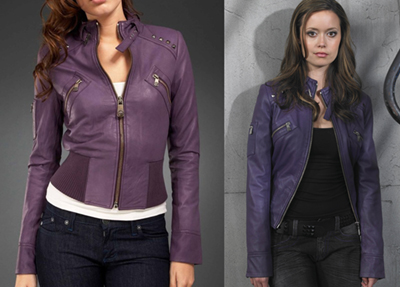 Soft leather biker style jacket. Front zip fastening. Two front zip pockets. Adjustable buckle detail around collar. Zip pocket on right arm. Zip detail on sleeves. Stuf detail on front and back. Knitted stretch waist band. All metal zip pulls are embossed with R&R skull logo. Price: £415
Cameron's Rock & Republic Purple Leather Jacket is not available anymore but you can buy a replica at this specialized website Trendy Leather Jacket.
Whether you're putting together the ultimate Kick-Ass costume or searching for a new motorcycle jacket, National Entertainment Collectibles Association (NECA) has released an exclusive Hit-Girl Prop Replica Leather Jacket. The replica is based on the actual jacket worn by Hit-Girl on-screen in the popular movie, KICK-ASS 2.
Kick Ass 2 Hit Girl Prop Replica Leather Jacket
It's made of high-quality purple metallic leather with extensive stitched detailing. The jacket is tailored with princess seams, zip front and invisible wrist zippers for a sleek, close-fitted look. Topstitched black leather patches at elbows and shoulders are padded for vigilante style and protection. Fully lined in purple satin.
Don't mess with girls wearing purple leather jackets!
Category:
TSCC
|
Total comments: 2

Message #1 | PurpleHayes | 05 Mar 2014, 22:43 GMT

[

Entry

]


everybody knows its true! But Cameron is the kickassest of them all! I have 2 purple jackets, neither of them are leather, I am not a girl.

Message #2 | chrisdvanne_ | 10 Mar 2014, 23:22 GMT

[

Entry

]

Cameron is full of win!