The team of
'Inside the Box'
has released a new production still featuring Regina King.
David Martín-Porras's short film stars Summer Glau, Wilson Bethel (Hart of dixie - CW) and Regina King (Southland - TNT).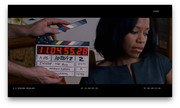 The production team is "immerse in post production" and still need your help to cover the costs associated with it; fans interested in making a donation will be able to get all the informations in a previous News.
You can also help the movie by spreading the word about it, following their Twitter account or liking their Facebook page.
You can take a look at the intense and promising trailer at the wiki page for the short.
Inside the Box should be released next February on DVD and Video-on-Demand.
Category:
Summer Glau
|