Can't Stop the Serenity, worldwide charity screenings of Serenity movie for the Equality Now fondation, auctioned back in October 2010 various collectibles signed by actors of the Whedonverse.
Two items included Summer Glau's autograph :
A Dollhouse metal artwork signed by Eliza Dushku, Summer Glau & Dichen Lachman, sold for $305.
Here's a promo video, featuring Eliza Dusku, Summer Glau and Dichen Lachman signing this collectible at
Supanova Perth 2010
.
This item is signed by Jewel Staite, Gina Torres, Adam Baldwin, Summer Glau and Ron Glass.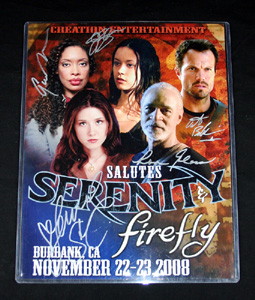 Side note : you can find another Firefly metal art in a previous blogpost.
Category:
Serenity
|