Behind-the-scenes look at the isotope gun that Cameron, John Connor and Sarah Connor assembled in the first episode of Terminator: The Sarah Connor Chronicle. When you watch the pilot, it's probably one of the things that makes you say, "Wow, it looks so cool!"
In 1999, Sarah, John and Cameron lock themselves in the bank vault. Cameron assembles the weapon, then Sarah shoots Cromartie with the sort-of nuclear gun and blows him all to bits at the same time as Cameron activates the time displacement equipment which has also been built into the vault.
The isotope weapon is a single-shot plasma weapon which has been built by the "Engineer" from scavenged parts in or after 1963. The parts were then stored in different safe deposit boxes in the bank vault of the Security Trust of Los Angeles.
Find below a video and screencaptures featuring Summer Glau, Thomas Dekker, Lena Headey and visual effects supervisor Jim Lima handling the custom isotope-fueled weapon seen in the pilot, as well as production sketches of the isotope gun designed by James Lima, all taken from the TSCC Season 1 Blu-ray extra "Creating the Chronicles: Reboot".
Design details, as described by James Lima in TSCC Season 1 Blu-ray extra:
When the plasma turns red, it is injected into the magnetic environment that allows the plasma to form into a cylinder, a bullet, and when it has the right temperature, it is inserted into a sphincter which allows it to go into the firing chamber. At that point, you have a choice to either fire one slug of it out or you can fire it as a pulse.
Parts used are: M1A1 Thompson receiver, VLTOR CASV-EL Rail system, AKS-74 side fold stock & M1928 foregrip. The barrel is a simple tube running through the CASV rail and there are various electronic greeblies. The centre section which resembles a multi-shot grenade launcher is custom built.
40x46mm Mk 32 Grenade launcher used by the U.S. Army. Looking familiar?
Quotes:
Cameron: When the isotope solution turns red you can fire.
Sarah: Isotope. Is this nuclear?
Cameron: No, not really.
Here's a bonus picture, courtesy of executive producer James Middleton, featuring Josh Friedman himself holding the coolest not-really-nuclear gun ever to grace the small screen. Enjoy!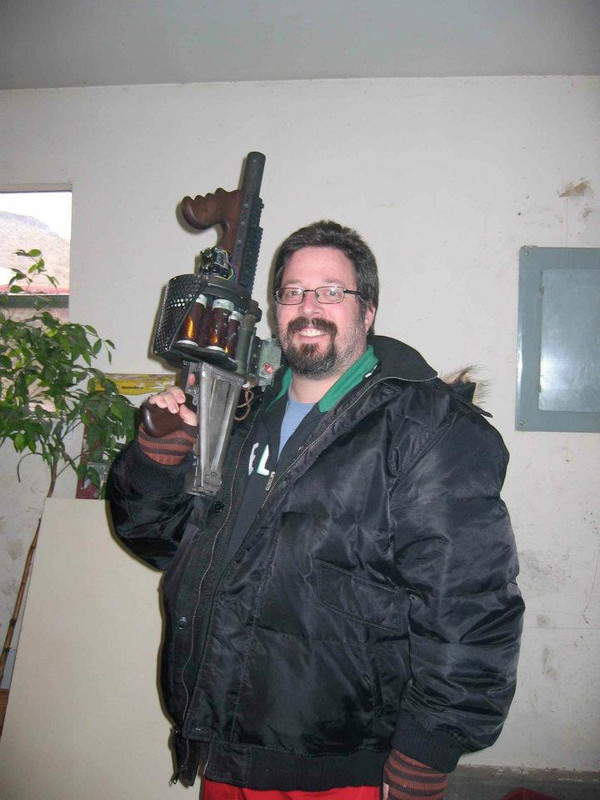 You can watch behind-the-scenes images and production stills from the pilot episode featuring Thomas Dekker, Lena Headey and Summer Glau in the bank vault in the photo gallery.
Summer Glau can also be seen holding this awesome isotope gun in a the behind-the-scenes video of a publicity photoshoot for TSCC season one; but while we have UHQ photos from this photoshoot, these particular photos were never released.
Category:
TSCC
|