"I was assigned to Summer Glau as a line manager....."
Gamer Girl volunteered as a handler at 2010 Dragon*Con, held in Atlanta on September 3-10 and was assigned to Summer Glau. Here's the part of her report relating to Summer Glau; it gives interesting insights into what's it's like to manage people in line for an autograph or a photo op.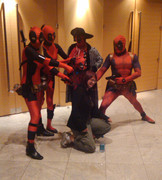 Only there 10 minutes and already attacked by Deadpool fans!
I was supposed to be assigned to Marc Singer (Beastmaster, V the series, etc...) but the man moves at such a high speed that giving him a person to help handle business would only slow him down. He is amazing to watch because he is very people friendly and is willing to go out and shake everyone's hands if you let him. Since he didn't need help, I was assigned to Summer Glau as a line manager..... trust me she needed it. She is known as River on Firefly and as the cute terminator on the Sarah Conner Chronicles. That girl is sooo sweet. She let the line continue even after closing just to get a chance to meet and sign for more fans. Meant long days for us handlers but still it was worth it!
Summer Glau and our friend G.
Line duty? Easy some think but when you are working in a convention setting where there is thousands and thousands of people with about 300 of those people wanting to be in line for Summer.... well.... its nuts. My job was to keep them all on the marked off taped areas (so we know which guest's line they were in) and I was taking their orders ahead of time to save the handler sitting next to her some time. It was almost a mantra to be telling these people "30 for an autograph, 10 to take a picture with her using a personal camera......" At least 3 times I was asked how much to take Summer home in which I replied, "You need to negotiate that with the man up there with the tattoos, that's her boyfriend." I tried to make the whole ordeal fun since they were all in for a long wait. We joked, laughed and talked about where they were from, what costumes they were wearing and so forth. When I had people trying to take unauthorized pictures I would get in the way and then have to make the people delete what was on the camera.... I got tired of this so the next crazy thing i did was I told these people that I hated to get mean (which I did) but the big man behind me (Kane who plays Jason in Friday the 13th movies) has a machete and isnt afraid to assist. On one of these times he heard me he thwapped the machete hard on the table in front of him. Was frickin hilarious to see a full row jump. He and his buddy were looking at the table to see if they dented it....thankfully the machete he had used still had the plastic safety edge on it LOL
Side note : the big guy photographied with Summer Glau leaning on his shoulder is hosting a booth at conventions; here's a picture of him with Summer and Kaitlin Glau at this year Dallas Comic Con :
Category:
Convention
|