Home » 2013 » April » 25
---
Check out below production images from the
Superman/Batman: Apocalypse
animated feature voice starring Kevin Conroy as Batman, Tim Daly as Superman, Summer Glau as Supergirl/Kara Zor-el, Andre Braugher as Darkseid and Susan Eisenberg as Wonder Woman.
The images below features design work and character models sheets for the DC Universe Animated Original Superman/Batman: Apocalypse made by storyboard artist Sam Liu, including Liu's own comments for some of the characters sheets.
Supergirl Turn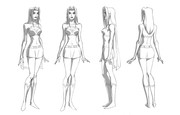 Superman/Batman Apocalypse hit the shelves last Tuesday. I had the good fortune to be asked to do the designs for this movie. Even though I don't consider myself a character designer, it was a lot of fun and a lot of stress trying to emulate Michael Turner's style. Special thanks goes out to Jeff Johnson for doing a ton of the heavy lifting with the finishes, turns and, and incidental designs.
Wonder Woman and Big Barda Turns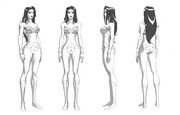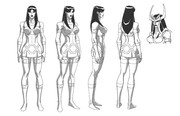 Wonder Woman and Big Barda turns for the Superman/Batman Apocalypse DTV. Based off of Michael Turner's designs.
Jeff Johnson did this turn on Barda with some touch ups from me. Especially the face since she was my favorite of this movie and I had a pretty specific look I was trying to get.
Superman and Batman Turns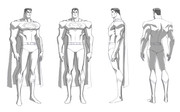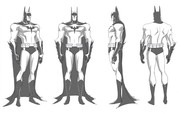 Superman and Batman turns for the Superman/Batman Apocalypse DTV. Based off of Michael Turner's designs.
Darkseid and Misc Superman/Batman Apocalypse Characters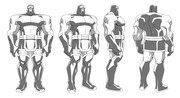 The Green Lantern animated series is winding down. As I was clearing space off of my computer I found this Darkseid turn we did for Superman/Batman Apocalypse back from the DTVs. I did the initial design and Jeff Johnson did the actual turn.
When we were going through the approval process, we were instructed to make his head bigger. But director Lauren Montgomery decided to revert him back to the original "small head" version when she did her attitude sheets. That's why she is a badass in my book haha.
I've adjusted the model and proportions to the longer and less squat version and did a quick shadow treatment on it.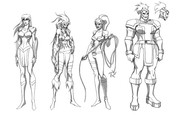 The second is a page of initial sketches for the Furies (Guilotina, Mad Harriet, Lashina, and Stompa). Based off of Michael Turner's designs from the comicbook.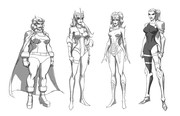 The third is a page of other secondary characters (Granny Goodness, Treasure, Harbinger, and Artemis) again based off of Michael Turner's designs.
The last is Doomsday.
---
Warner Home Video released on the day of Superman/Batman: Apocalypse's official release, i.e. September 28, 2010, three videos to promote the direct-to-video animated feature. Two clips feature voice actor Summer Glau discussing the role of Supergirl, and the other is a clip from the actual animated feature.
Gallery links:
Bonus: here's an excerpt from an interview with Superman/Batman: Apocalypse director Lauren Montgomery for CBR, where she talks about what it was like having Summer Glau as part of the cast as well as how she ended up with the role.
Interviewer: How did you land on Summer Glau and what did she bring to the role of Supergirl?
Lauren Montgomery: Summer was really interesting. I think she was Bruce [Timm]'s idea. He was the one who put her name in the hat as far as a possible Supergirl voice option. And she wanted to come do it, which was awesome. And when she came in, she was really nervous. I don't think she'd ever done any voiceover before, so we were a little frightened. It was like, "Oh my gosh, is she going to be able to do it?"
We went through a rehearsal and she was still kind of nervous and still holding back but as soon as we started recording, it was like she was a pro. It was like night and day. There was nervous Summer and there was Summer who was just doing her job. She was just acting. And she did an amazing job. I was sweating it a little at first, but as soon as she started performing for real on the record, she was amazing. She did such a good job. I was really happy with her performance.
---
Summer Glau talked about voicing Supergirl on
Superman/Batman: Apocalypse
in a studio-conducted interview provided by Warner Home Video, on the day of the direct-to-video animated feature's official release, on September 28, 2010.
Following her recording session, Summer Glau freely discussed a number of subjects from her first voice acting experience, her bond with the sci-fi fans, the acting strengths of the Whedon alumni association to her consistent on-set nerves to a strong desire to land more adult roles. Heres how that conversation went:

QUESTION: Was it easy to find a way to relate to Kara?
SUMMER GLAU: Kara was a really comfortable fit for me because she's sort of a girl coming into her own. A girl becoming a woman and finding out who she is, and so I felt like there were moments when it reminded me of River because she is so powerful, but also young and nave and a little bit lost. She has this underlying strength that comes from out of nowhere.
QUESTION: Whats special about voicing Supergirl?
SUMMER GLAU: I think everything about being Supergirl is special. When I saw the graphics for her, I thought I don't think I'm ever gonna look that good again, so I'm going to soak it up and enjoy it. I feel like animated characters always have longer calves than they have thighs. They have these tiny little thighs and these big, wonderful calves and then these big hips, and this tiny little waist. I feel like it'd be hard to keep your balance, but it looks good. Plus I loved this script, and I loved the character. Who wouldn't love to be Supergirl? So I had a great time.
QUESTION: As this was your first foray in voiceover for an animated character, what did you have in your head while you were recording to stay focused on your character?
SUMMER GLAU: I've found that I do my best when I'm not afraid of being embarrassed in front of everyone. You have to just go there in your imagination. I tried to picture everything around me, seeing these other characters, and then I just put it out there and hoped that you all didn't laugh at me. And you might have because I couldn't hear you (she laughs) , but I just went for it.
QUESTION: Without any spoilers, do you have a favorite scene or a favorite line in the film?
SUMMER GLAU: I love that first scene when Superman comes to rescue Kara and she's putting on this completely different persona. Playing that change was really fun. And I also really loved when Kara meets the Kents. I thought that was really funny.
As an actress, it's very gratifying to have a character that has such a strong arc, so that you can do so many different things in one script with one character. She starts out speaking a different language and being very scared and not relating to anybody, and then realizing that she's reconnected with a family member. Then she goes to school and learns how to hone her skills. She just goes through so many changes good, evil, scared, confidant and that variety in one script is fun to play.
---