Home » 2013 » March » 05
---

Summer Glau attented Starfury Fusion, a Buffy The Vampire Slayer convention that took place at the Norbreck Castle hotel in Blackpool, England on 30th April - 2rd May 2004.
Besides Summer Glau, the other guests in attendance were Buffy/Angel actors Elizabeth Allen, Nicholas Brendon, Emma Caulfield, Nathan Fillion, Sarah Hagan, Clare Kramer, Juliet Landau, James Leary, Tom Lenk, costume designer Nickalous Brown; the T-1000 Robert Patrick and Firefly's Jewel Staite were there...because they could.
In view of the small size of the convention, the guests had a direct and spontaneous contact with the fans; more, Starfury Fusion was Summer Glau's first convention as well as her first trip overseas and the photos from the event shed light on her amazement and enthousiasm.
Here's a pictorial report of the event:
The opening ceremony featuring all the guests on stage; you'll notice the Firefly (Nathan Fillion, Summer Glau, Jewel Staite) and Terminator reunion (Robert Patrick and a not-yet-Cameron Summer Glau)
---
A young Summer Glau enjoying the costume contest during her first convention.
---
Summer Glau liked the little girl dressed as the Little Red Riding Hood a lot!
---
I wonder what caused this overload of cuteness.
---
Jewel Staite gives Nathan Fillion the finger (it has become a recurring gag between them).
---
Nathan politely answering Jewel, because he's a gentleman.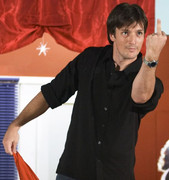 ---
Nathan gives a lovely Jewel two thumbs up!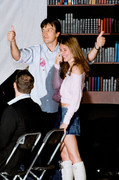 ---
The hover hand did not exist back in the days. Special appearance by Summer's navel.
---
One of the two "stage sets" used during the event was "Giles' Library in Buffy", hence the "book shelves" visible behind the guests in some of the photos.
---
The closing ceremony. l-r:- Nathan Fillion, Sarah Hagan, Emma Caulfield, Clare Kramer, James Charles Leary, Juliet Landau, Elizabeth Ann Allen, Summer Glau, Jewel Staite, and Tom Lenk.
---
New pictures have been added to the Gallery, be sure to check them!
Gallery link:
Fun facts:
Summer Glau cried at the end of the con (that too has become a recurring topic)
This was the first time that the Firefly cast really realised the affection with which the show was held outside the USA.
Summer enjoyed the convention so much that she offered to keep doing as many conventions for Starfury as possible (which was turned out to be true).
Summer was also instrumental in persuading other cast members to come over to visit the UK as a result.
Juliet Landau (Drusilla in Buffy) was handed a book containing "Buffy the Vampire Slayer" quotes. She was asked to read some of Drusilla quotes in the style of the character.
Needless to say that Nathan Fillion stole the show every day.
I hope you all enjoyed this trip down memory lane with a young and amazed Summer Glau.
---