Celebrity guests were visibly having fun as they posed for a portrait during Motor City Comic Con 2018. Check out below the UHQ photos we acquired, including a solo shot of Summer, or with her family, as well as a badass photo of a familiar hooded figure with a warrior princess. Head over to the gallery for more photos of Summer at MCCC 2018.
Summer is all smiles as she poses for a solo shot on her first day at Motor City Comic Con 2018. She makes blue looks great!
Say hello to the Morrison's! Check out this lovely family photo with Summer, her husband Val and their youngest daughter Sunny Isabou. And while posing for a photo-op does not seem to be a priority for the 6 month old baby, Sunny Isabou is a cutie pie!
The explosive meeting of two sci-fi legends. Xena: Warrior Princess's Lucy Lawless is about to rip Arrow's Stephen Amell's t-shirt when they met at Motor City Comic Con.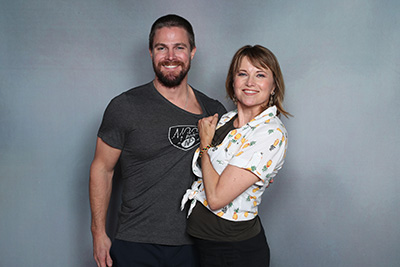 Bonus picture: Summer proves that she's still got the moves. The Firefly/Serenity star recreates a River Tam pose, while her expression (and the huge sword she's wielding) shows she means business.
Events from 2018 > Motor City Comic Con, Detroit > Photo Ops & Misc.
29 May 2018