Summer appeared at Emerald City Comic Con in Seattle this weekend and took part in a number of photo op and autograph sessions with her fans. I have collected together a couple funny and heartwarming stories from fans who met her and kindly shared their story. I hope you have fun reading these lovely tidbits.
1) Moriah was totally fangirling over meeting Summer and we love it!
Okay first off, Summer Glau...I can't!! What an incredibly adorable, kind and intelligent human! Getting to tell her how incredible Firefly/Serenity was for so many and talking about Terminator series with her!! So f***ing perfect I wanna cry! Bless her!

Me: "I can't imagine how much control it takes to play a robot."
Summer: "It takes a lot, but for a while I was just figuring it how I wanted to do it or how I wanted her to be, after that though it became absolutely addicting. I never wanted to stop!"

I love this so much!! Sad the Terminator series got cut short because it was truly awesome!
And Summer said Lena Headey is so incredibly strong, but also very playful and whimsical. An incredible person to be around.
And that alone made my heart so f***ing happy!
2) Halli got to meet Summer not once but twice at ECCC 2018! Feeling jealous right now.
My new BFF and I.
She is [a real sweetheart]! Out of the people I met this weekend, she was definitely the friendliest, and spent the most time talking to her fans.
That day I was cosplaying as Black Canary (Injustice 2 version)
3) Meeting Summer was a dream come true for Elizabeth! I guess it has something to do with the fact that she is a dance teacher.
Summer Glau! Fun fact: she loves adagio, hates frappés, is not a turner but lives for those dreams where you nail lives six pirouettes.

I went to the panel with her and Sean Maher and they do questions from the audience and I asked her about ballet and her eyes lit up and yeah. She loves adagio for the soaring music and somehow, I'm not surprised and that fits perfectly with what I know of her as an actress and the roles she's taken on.
And it was so neat to have that opportunity to ask something so personal to me, and probably literally no one else in that room.
4) This photo op with Summer and Sean will be a treasured memory for Teri and her family.
Summer Glau and Sean Maher were soooo sweet to talk to and hear at the panel.

Exhausted and elated after ECCC 2018. A Browncoat since it first aired in Canada, I have converted my family (see our pic!) and most of my friends into Firefly lovers since. So it was a serious thrill and honor to meet Summer Glau and Sean Maher at ECCC this past weekend. Firefly means so much to it's fans, for creating a crew we wish we were a part of and 'verse we wish we lived in. We want to be Big Damn Heroes along with them. And to have celebrities who brought those heroes to life come to cons and meet their fans is an amazing thing!

Summer Glau was beautiful, funny and sweet to her fans, giving sincere thought to all our crazy questions. I loved learning about how Summer began her acting career after being a dancer first and her learning the craft of acting. As well as her sharing some of the behind the scenes stories of working on set and the emotional swings the cast went through from becoming a family and then learning of the cancellation. Her portrayal of River Tam was deeply moving, she brought a sweetness to the chaotic damaged character that was truly moving. She was a huge part of why the show has such devoted fans.
It is a rare thing to have celebrities wiling to give their time and energy to such an overwhelming and tiring event like a comic con, so from the bottom of my little Browncoat heart, thank you Summer!
5) Actor James Pinto II met two of his fans at ECCC 2018. Make sure to read what Summer and Sean wrote on the photos.
Was hanging out at ECCC with my daughter Elora and ran into two of my biggest fans. We chatted a bit and for giggles I had them autograph a couple of Pics for me.

Summer Glau and Sean Maher are really great people. Had an awesome time with my daughter.
6) On this occasion, it was therefore a case of one man's loss being another man's gain. Steve and his son are the lucky ones.
I commented a few days ago my plans to attend today fell through. Some relatives had passes and fell ill. While I was at the gas station I checked Facebook and saw their post I quickly claimed them. Went home to quickly change into my 3rd favorite Firefly shirt, (the rest were in the laundry basket).
An hour later one of my sons and I attended our 1st Con. Then straight to the photo-op with Summer.
Bucket list is now accomplished.
7) Tomas drew this great pencil portrait of Cameron and Freya had it signed at Summer's booth.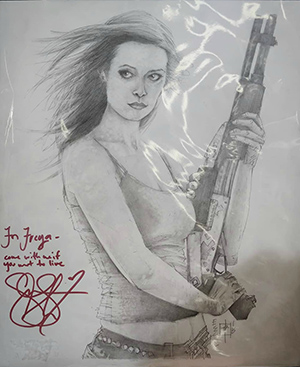 Tomas: "I made a very limited number of Summer Glau Terminator prints for ECCC 2018. Always a joy when the subject sees the artwork."
Freya: "She said it was very well done & that you are a great artist."
8) The t-shirt my friend Brandon gave to Summer at ECCC 2018 nailed it!
Hey, it's Brandon, offering you a more detailed report of my meeting with Summer Glau!

Before the meeting proper, a friend of mine told Summer she liked the flower-patterned short Summer was wearing, and Summer said back that her daughter likes it too. Summer then said her daughter asked, "Can I have that shirt?" And, Summer told her maybe when she gets bigger. It was just such a sweet moment.

When it was my turn to meet Summer, I asked her "Would you like a new shirt?" And she said sure. I unfolded the "I'm too awesome for shoes" shirt, and presented it to her. She read it, and her head went back, her eyes closed, and she has the biggest, sweetest smile on her face, and a little giggle afterwards, and then said she loves it. Before the photo, she warned me though, "My husband will probably steal this from me. He always steals my shirts". I chuckled.
Many thanks to all fans pictured in this blog who have kindly shared their wonderful photos and stories. Thank you to Summer and Sean for putting yourself out there to meet and engage with fans, even for a short time; we appreciate it.
If you, too, are interested in sharing your story/photos, just post them in the comment section below or send us an email.
Catch up on more from the Emerald City Comic Con weekend!
On the same topic, check out photos and stories of fans who have recently shared with us their Summer Glau experience:
06 Mar 2018
|
Total comments: 2

Message #1 | ckjohnsonplease | 11 Apr 2018, 16:45 GMT

[

Entry

]


Hi Summer.
I am glad you came to Awesome Con DC a few years ago. I, C.K. Johnson, was dressed up as 'Terminator Black 101 Model.' Thank you for autographing my picture. That was the highlight of my day. 
From,
C.K. Johhnson

Message #2 | ckjohnsonplease | 11 Apr 2018, 17:33 GMT

[

Entry

]


Hi again,
Here are a few pictures of my friend and I at the Richmond Comic Con. I thought you might enjoy them.
Pennywise and me, Terminator Black 101 Model.
https://www.facebook.com/strikeandhide/photos/t.1001718619/1493436994071879/?type=3&theater
https://www.facebook.com/strikeandhide/photos/t.1001718619/1491980044217574/?type=3&theater
From,
C.K. Johnson