Summer Glau did an amazing photo shoot for the March 2011 issue of Esquire magazine (the one with Liam Neeson on the cover). In some of the promo photos and in a few scenes from the video filmed for Esquire by Brian Bowen Smith, a sexy Summer Glau rocks a white bikini and a blue Truckers Excuse t-shirt.
Take a look at the photos and screen captures below:
[Summer Glau photo shoot for Esquire]
If you like the vintage look of Summer's Truckers Excuse t-shirt, this transfer might just be for you!
Truckers Excuse Shirt - Vintage Heat Transfer for Shirts - Iron On - 1980's -1970's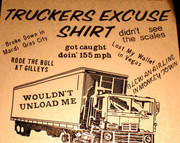 This transfer can be purchased for a price of $4.95 on
etsy
.
Watch Summer Glau in the video made for the "A woman We Love" section of Esquire magazine.
Check out our
Clothes & Outfits
section for more of the stuff Summer Glau was seen wearing off-screen.
Category:
Summer Glau
|